It can seem daunting to set up shop. You have to make a million decisions and invest time and money, so you don't want to waste any resources. For one thing, what do you actually need in a point of sale (POS) system?
As with most things in life, it depends on your situation. It is possible for a small business to do with a small hardware setup and POS software, but larger, more complex stores require more equipment.
Let's go through the key things you need for a POS system, in order of priority.
1. POS software
This is where you start. Why? Because the specific software determines what equipment is compatible. If you're not a fan of Apple devices because they're pricier than an Android tablet, your cloud POS options are limited, because many of the best systems are only compatible with iPad. If you prefer a custom-built touchscreen PC suitable for a food environment, again, your options are more limited.
And of course, the software is the brains behind your POS features. If you want detailed stock control tools or advanced food menu options, you find the electronic point of sale (EPOS) software that have these features.
If you're absolutely set on certain accessories, you can rule out the till software that doesn't integrate with this. That said, pretty much all POS systems integrate with a card reader, receipt printer and cash drawer as minimum, exceptions being a few free payment apps like SumUp that only integrates with receipt printers (iZettle and Square apps, also free, both integrate with this plus cash drawer and barcode scanner).
Possible add-ons:
More complex POS features within same software system
Integration with external cloud tools e.g. accounting software
Need a little help finding POS software? We've rated the best ones for small businesses:
2. Touchscreen interface
The touchscreen interface is your front-of-house till screen. You cannot use the POS software without this.
Legacy POS systems require an onsite server, which could be a PC, as well as a purpose-built touchscreen monitor for the till.
Today, many of the best POS systems work in the cloud, meaning you can do with just a tablet (sometimes even a smartphone) connected to the internet. Most cloud POS systems work on iPad, but some also work on Android or/and PC. All the transactions, inventory, orders, and anything else you process, are then stored on external servers managed by your chosen POS software provider.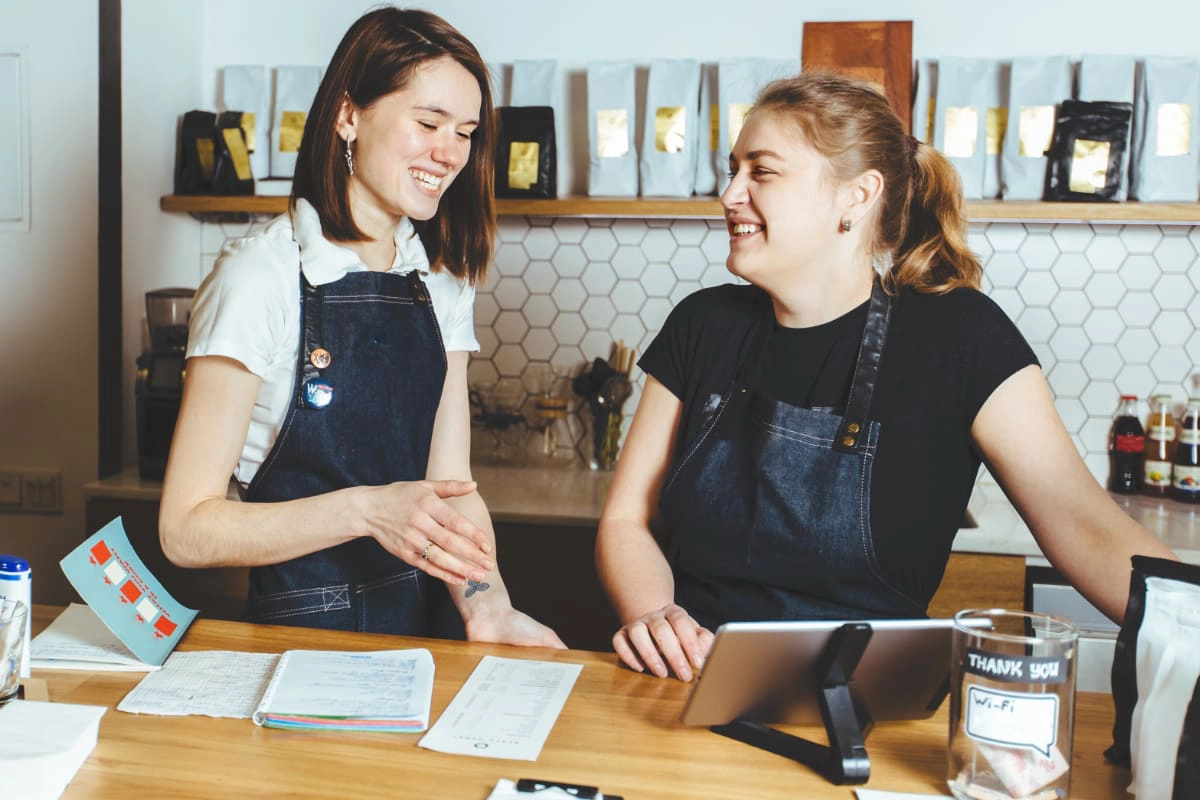 The touchscreen display can just be an iPad or Android tablet encased in a holder attached to the counter.
If you're opting for an all-out cloud-based solution, you will need a constant internet connection, in which case it's a good idea to invest in a backup internet solution like a WiFi dongle. If your software has an offline mode, you may do without a backup, but your POS provider may require an onsite server to run the offline capabilities locally.
Possible accessories:
Tablet holder
Customer-facing display
Server, WiFi dongles, boosters or extenders for offline mode and stronger internet reception
1 + 2: Or go for a cash register, if you don't want EPOS
Businesses who want all their backend analytics, staff management, inventory etc. tied together should opt for a modern EPOS system run on a computer, tablet or mobile device. However, if you want the cheapest possible point of sale, you can opt for a cash register.
Read more: All the key differences between a cash register and POS system
A cash register is one machine that consists of a keypad of push buttons, cash drawer, display (cashier-facing and sometimes customer-facing) and inbuilt receipt printer. Some cash registers can be connected with a barcode scanner.
Advantages of a cash register:
Cheapest system for point of sale
No monthly fees
All-in-one device for transactions, receipt printing and cash management
Works offline (card processing still needs internet)
Disadvantages of a cash register:
Does not do analytics or more than basic reports
Not linked with inventory system, staff management or other business tools
Limited how many products you can save for barcode scanning and shortcuts
Does not include card processing capability
3. Card machine
In today's world, you're bound to suffer if you don't accept card payments. Brits are tap-happy with their contactless cards and otherwise jump to enter their PIN for a higher amount if that's what it takes. They are less than tolerant to a cashier saying "sorry, we don't accept cards". We don't really recommend skipping on the card machine, so that's why we consider it an essential part of the point of sale.
The key types of cards to accept in the UK are contactless and chip and PIN cards, mostly by Visa and Mastercard. All modern card terminals will have the capability to accept those, but you may need to take out an extra contract just for card acceptance. You can bypass that by choosing a card reader that already has card processing sorted in the deal, or a contractual rental agreement with card processing and terminal tailored to your business.
Possible accessories:
4. Cash drawer (if accepting cash)
If you accept cash and trade in a fixed location, it's a very bad idea to go without a cash drawer. This is where you store coins and banknotes safely. Without it, you are vulnerable to theft and discrepancies due to not keeping things organised.
Cash drawers sometimes come as part of a hardware bundle, or you can purchase one on its own. Beware that some cash drawers only open automatically when connected with a compatible receipt printer, so do check how it is manoeuvred before buying it.
Given the fact that a good proportion of the population still uses cash regularly, a cash drawer is likely going to play a key role in your till system – that is, unless you are a mobile business with no room to carry it around. Or you may run a business at a location where almost all your customers use cards. In those cases, you can opt to go without a cash drawer.
For added security:
Under-counter safe for storing banknotes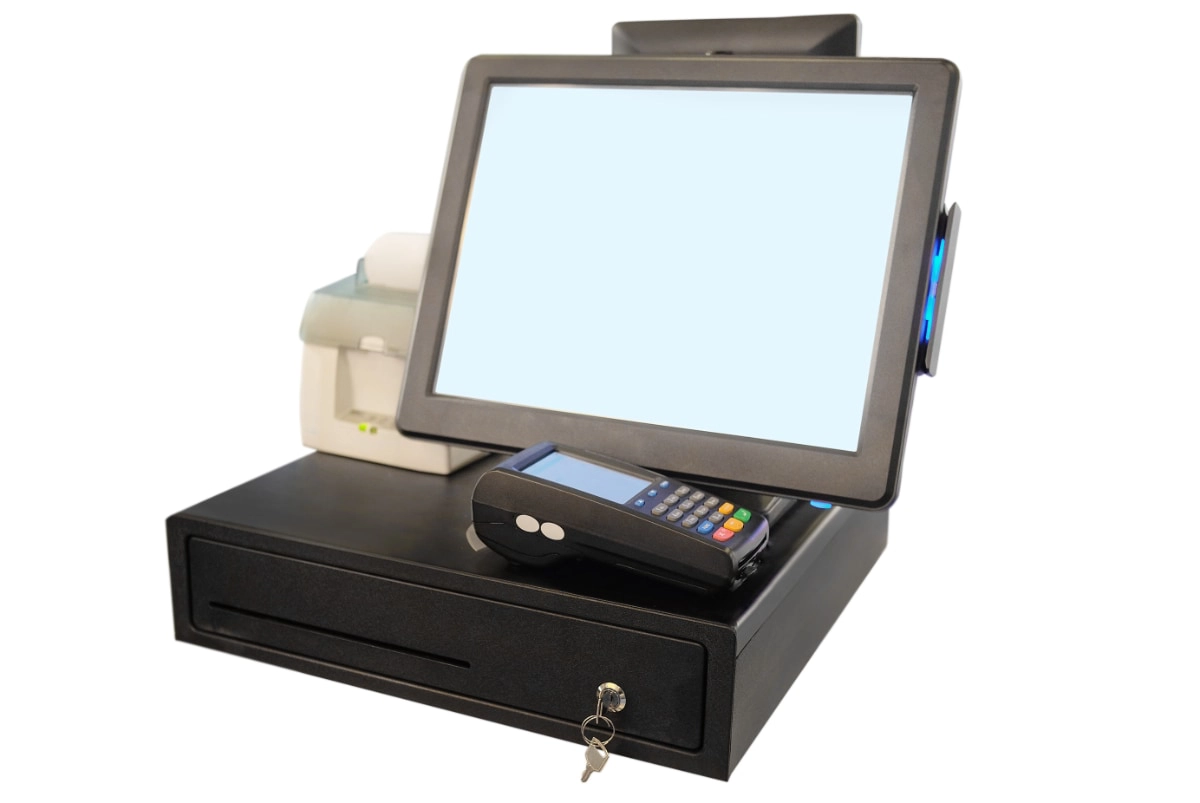 A core POS hardware bundle usually consists of a touchscreen device, card machine, receipt printer and cash drawer.
5. Receipt printer (if your customers pine for it)
Receipt printers are usually considered essential, but modern till systems often have the option to send an electronic receipt via email or text message. A digital receipt is just as valid to prove a purchase as a paper receipt, but some customers may still ask for the latter for various reasons.
If you work in a bar or food stall, you can probably get away with no receipt printer, but in shops selling more expensive products or anything that might be deducted as a business expense, it would be sensible to get a receipt printer. Only time will tell if all consumers get accustomed to just a digital proof of purchase.
With a receipt printer, you need ongoing paper refills, or if you're on the go, a belt clip would come in handy so you don't need to hold it in your hands.
Accessories:
Receipt paper rolls
Belt clip (for portable printers)
Mount for fixing to wall or countertop
6. Barcode scanner (if you're a busy retailer)
Barcode scanners are for retail shops selling products with a barcode. They make it possible to register items very quickly, ultimately reducing queues and transaction times. Barcode scanners also eliminate mistakes that would've happened from mistyping a product manually. There's no arguing with the barcode (although there might be with the price in the system).
Some POS apps for tablets or smartphones have the capacity to "scan" barcodes via the inbuilt mobile camera. This could be useful for cash-strapped businesses, but if you're high-volume and need the most efficient way to add items to the bill, a purpose-built barcode scanner is much better.
Accessories: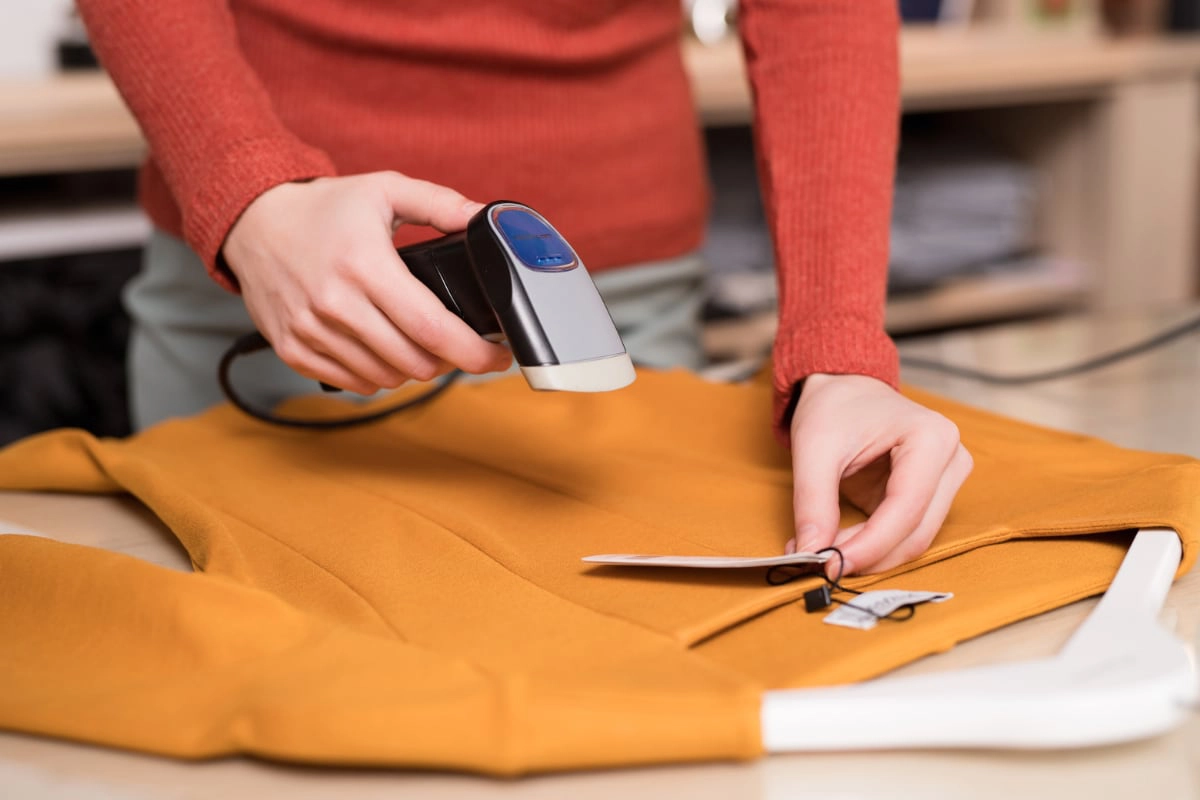 A barcode scanner speeds up transactions and eliminates errors.
Start with core equipment, then build from there
The heart of the till lies in the above hardware pieces, so we recommend starting there. You can buy hardware bundles for retail or hospitality from providers like Vend and Lightspeed, containing different combinations of the hardware we've covered. Bundles often have a better price than if bought individually, but you can also save money by getting some of the equipment secondhand.
Although not considered core to the till system, certain extras may be important in particular industries, for example:
Kitchen printer or kitchen display system (KDS) for food orders (restaurants)
Self-service POS tablet for ordering without a cashier (restaurants)
Scale for weighing goods priced according to grams (retail shops)
Alarm tag remover (retail shops)
How do you know what to get? Once you've started selling, it becomes evident what kind of extras you need. For instance, you can't sell food priced by weight if you don't have a scale. Some restaurants would also find a kitchen printer the best way to send orders through to the kitchen, but a small establishment might be able to do without. You may not know this straight away, but at least with the basic setup, you have the main POS system in place.