Accepting payments when you're not allowed near a customer can be challenging, whether that's because you're in quarantine, socially isolating or if customers are just not present.
The UK is lucky to have several cashless payment methods to suit each merchant and customer preference. Contactless cards are one thing, but there are actually several other ways to get paid without physical contact, suitable even for the long term. Let us run through the most viable options for a small business.
Virtual terminals
A virtual terminal is a secure web page where the merchant can enter card details on behalf of the customer to process a transaction where the customer is not present. This method is mostly used for taking payments over the phone or by mail order.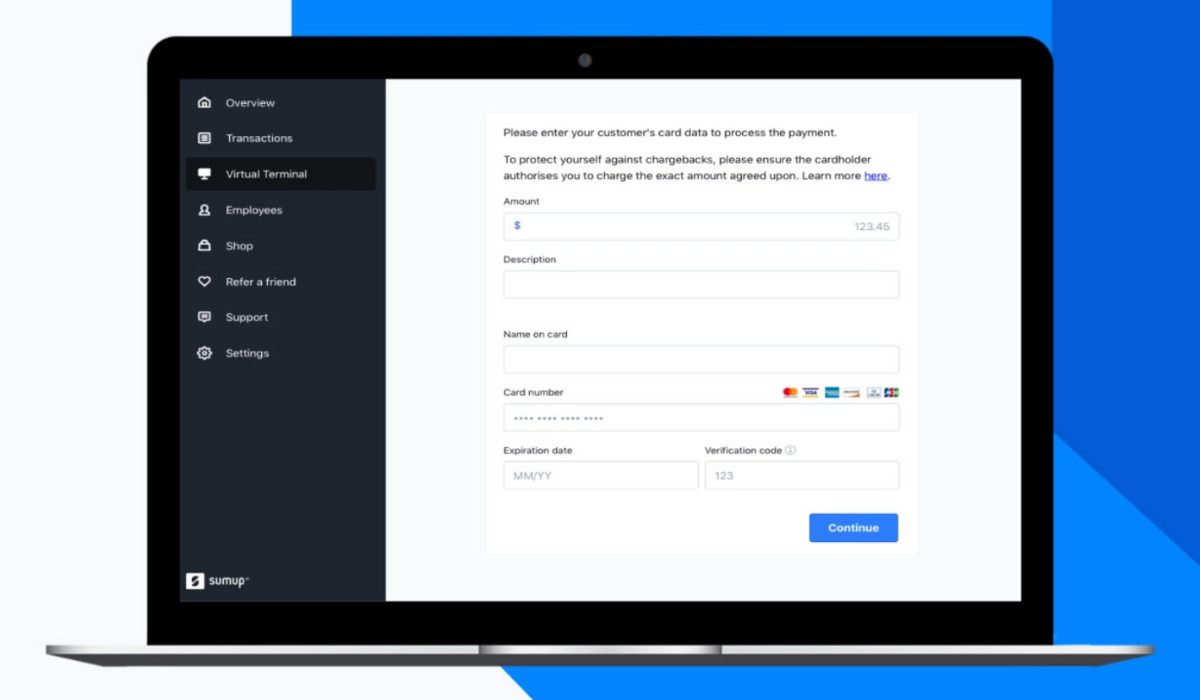 SumUp offers a free virtual terminal to suitable businesses, but you have to apply for it and await approval.
Most virtual terminals have monthly fees, but Square offers a free virtual terminal where just a transaction fee is charged. Alternatives with a rolling contract can, however, be a better deal for consistent and higher sales volumes.
With keyed-in payments, it's a common requirement to set up PCI compliance, ensuring you follow basic security processes during transactions. Some low-cost providers do not require PCI documentation, but it is still good practice to familiarise yourself with it.
Payment links
Payment links – also called 'pay by links' – are pay buttons that can be sent by text, email, social media or messaging apps. The customer clicks the link from their end and pays on the checkout page that opens up in their phone, tablet or computer browser.
This is great for merchants who don't have time or money to build an online store, or prefer a more flexible approach to payments without a card machine.
There are different limitations to payment links depending on the pay-by-link provider. Some are time-limited or one-time links that deactivates after a payment, while others are multi-use where the customer can enter an amount manually to pay (good for donations or customers who don't try to pay less).
Pay-by-links do not have the same PCI compliance regulations as a virtual terminal, because the customer enters their own card details on a screen you don't see. This can be a relief for some merchants, but also places the onus on the customer to finalise the payment.
From low-cost to high-end payment links, we've ranked the best:
Contactless via card terminal
Germs and viruses are commonly present on frequented-touched surfaces, but did you know that the PIN pad of a card machine could be the most contaminated thing in a shop?
You can clean the terminal frequently, but it's only going to be disinfected until the next person touches it. That's why many shops are now encouraging contactless card payments, not cash or chip and PIN. But what are all the ways to accept contactless with a card terminal?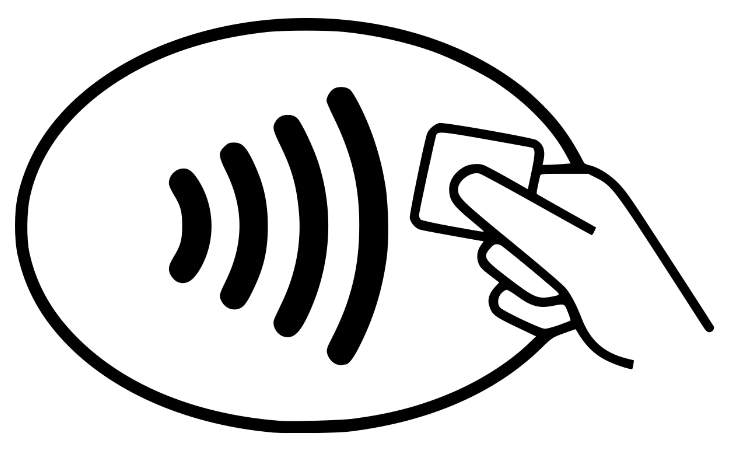 Contactless logo indicating NFC compatibility.
1. Contactless cards
All new card machines in the UK have contactless functionality, as far as we're aware, but there may still be some terminals around that don't have this feature installed. The technology behind it is near-field communication (NFC) using radio frequency to identify cards.
All debit and credit cards with the contactless logo can be used with NFC terminals (even your NFC smartphone can be a POS terminal). Accepting it is a must for merchants regularly selling for less than £30. In fact, a contactless limit increase was initiated on 1 April 2020, bringing the maximum contactless payment limit up to £45 in the UK.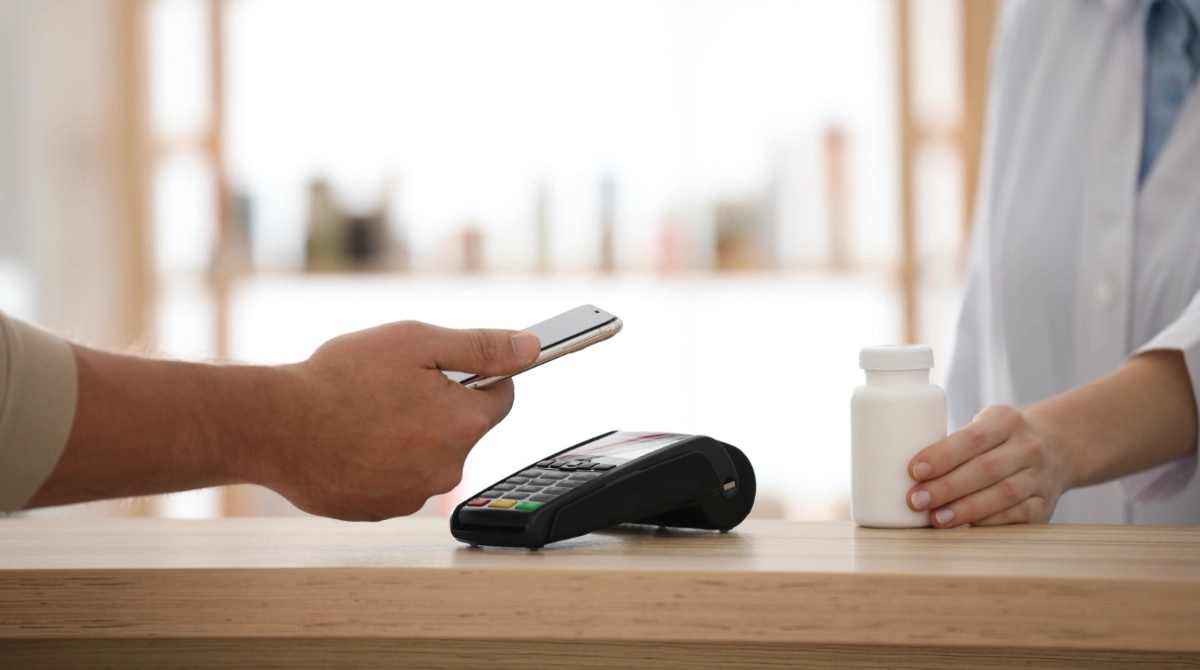 Viruses are known to be rife on PIN pads at pharmacies, so contactless payments are especially important there.
2. Mobile wallets
There has never been a better time to use mobile wallets, since there is typically no transaction limit as long as the digital wallet can authenticate payments via fingerprint or face recognition. This makes it one of the most secure ways to pay.
Widespread digital wallets include Apple Pay, Google Pay and Samsung Pay. They all work via NFC (built into iPhone, and most new Android and Samsung smartphones), though Samsung Pay also supports magnetic secure transmission (MST) technology, which many terminals accept. Apple Pay can also be used with Apple Watch, avoiding the need to grapple with a phone to pay.
Inexpensive card readers with contactless/NFC functionality:
If your card machine takes contactless cards, you should be able to accept Apple Pay and Google Pay. Check with your payment provider whether your terminal accepts Samsung Pay too, as there may be exceptions on that.
For transactions above the contactless limit, we recommend encouraging customers to use their mobile wallet to pay without touching the terminal.
3. Keyed-in terminal payments
Certain card machines also have a manual card entry option that can be used in place of a virtual terminal. Most traditional card machines by e.g. Verifone and Ingenico can have this function activated, but this has to be approved by the payment provider.
Alternatively, some card readers that work with a mobile app have a keyed-in option at checkout. Depending on the provider, you may still need the card physically present to verify the payment, or you may be allowed to enter details received on, say, a phone call.
Ecommerce
Selling through an online store is an obvious way to accept payments remotely, but do you have the time and skill to set one up? If you don't, we've created this guide for a fast-track way to set up an online shop.
There are different approaches to ecommerce, some which are faster than others. The options are:
1. Full-fledged online store
This is your very own website with a checkout for buying products or services. The fastest way to set this up is through an all-in-one website builder that includes an integrated payment system and everything else needed for a website.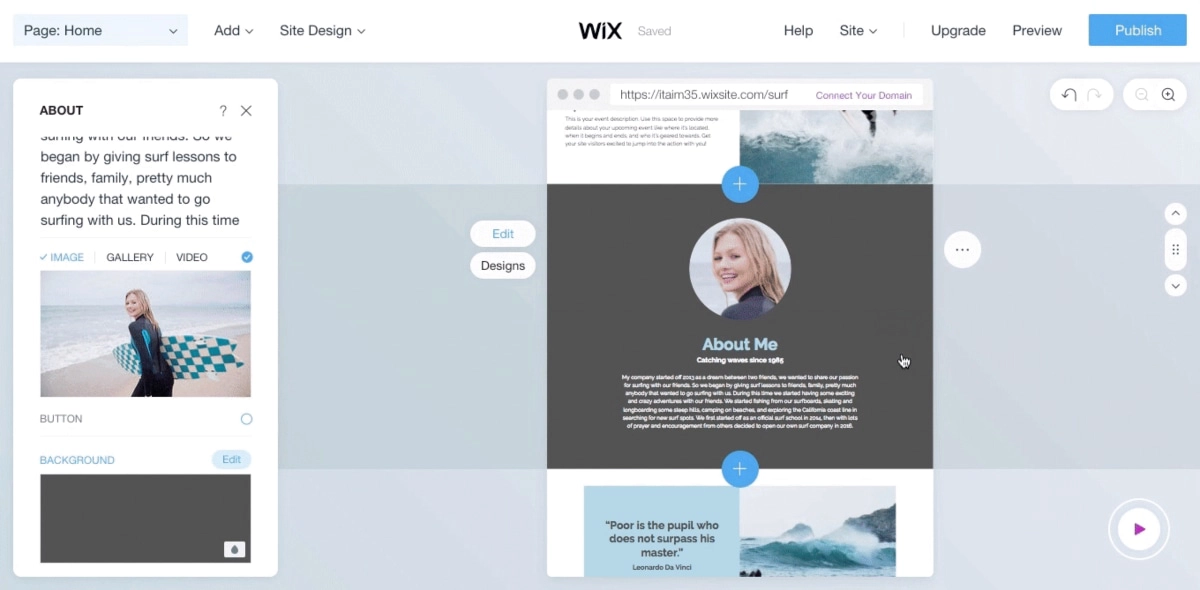 To create an online shop quickly, choose a platform with an easy website builder such as Wix's.
Retailers will typically need a shop sections where users can add products to a shopping cart, then pay when ready. If you deliver takeaway food, the shop section should look more like a food menu or order from, whether you offer click-and-collect or a delivery service.
2. Social selling
Social selling include posting payment links in messaging apps (e.g. Messenger, WhatsApp) or integrating a shopping features with your social media profile.
For example, Facebook Business Pages let you add a Shop tab listing products or services to buy. It is up to you whether you then message the customer a payment link in a Facebook chat or link to a checkout page (not integrated on Facebook) from the product listing.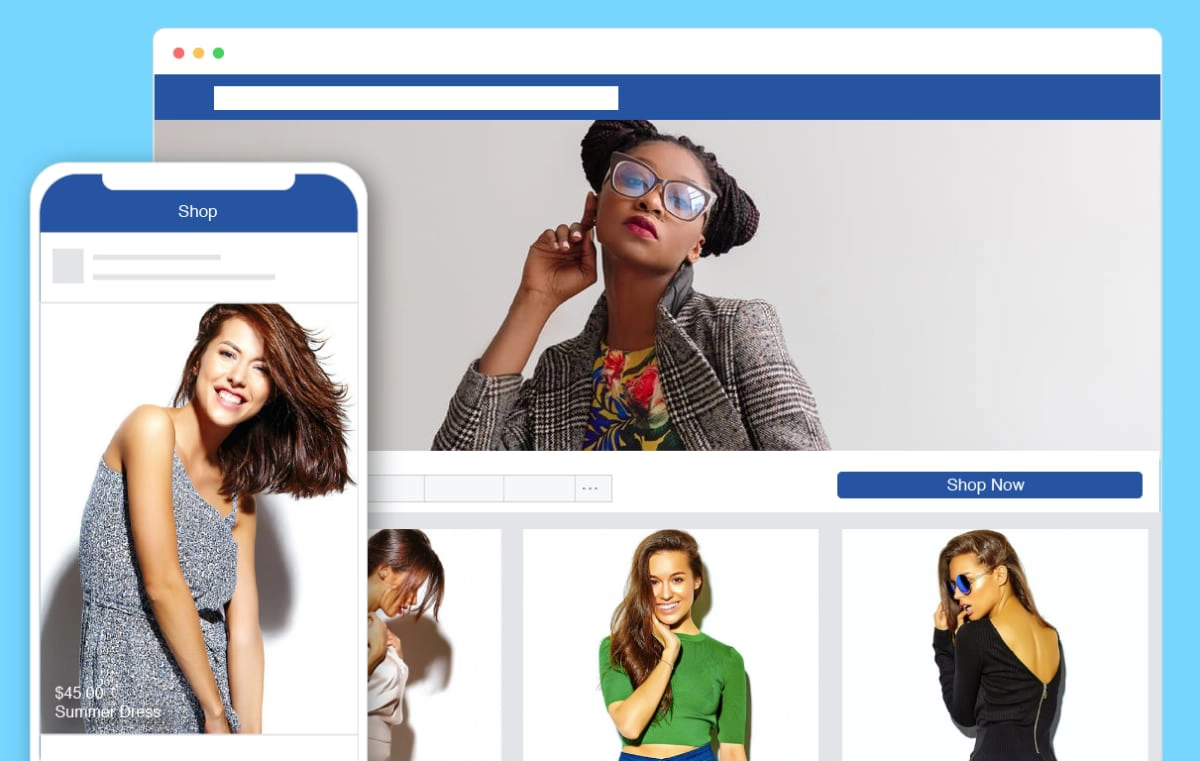 With a Facebook Business Page, you can add a Shop page linked to an online checkout.
Instagram also lets you link posts to your website so people can buy an item in an image after clicking a button to purchase.
3. Profile on marketplace platform
Artists, creatives and makers can create a profile on Etsy that has an integrated payment system. The platform basically gives you a mini store among many others benefitting from a large userbase of customers browsing for things like jewellery, clothes and home-made stationery.
There is also eBay, Amazon Marketplace and many sector-specific platforms where your business can compete with others like you. For example, Uber Eats accepts applications from serious food businesses. Once approved, there are tons of customers searching for nearby takeaways – this is a great way to get new customers through a familiar website customers already trust.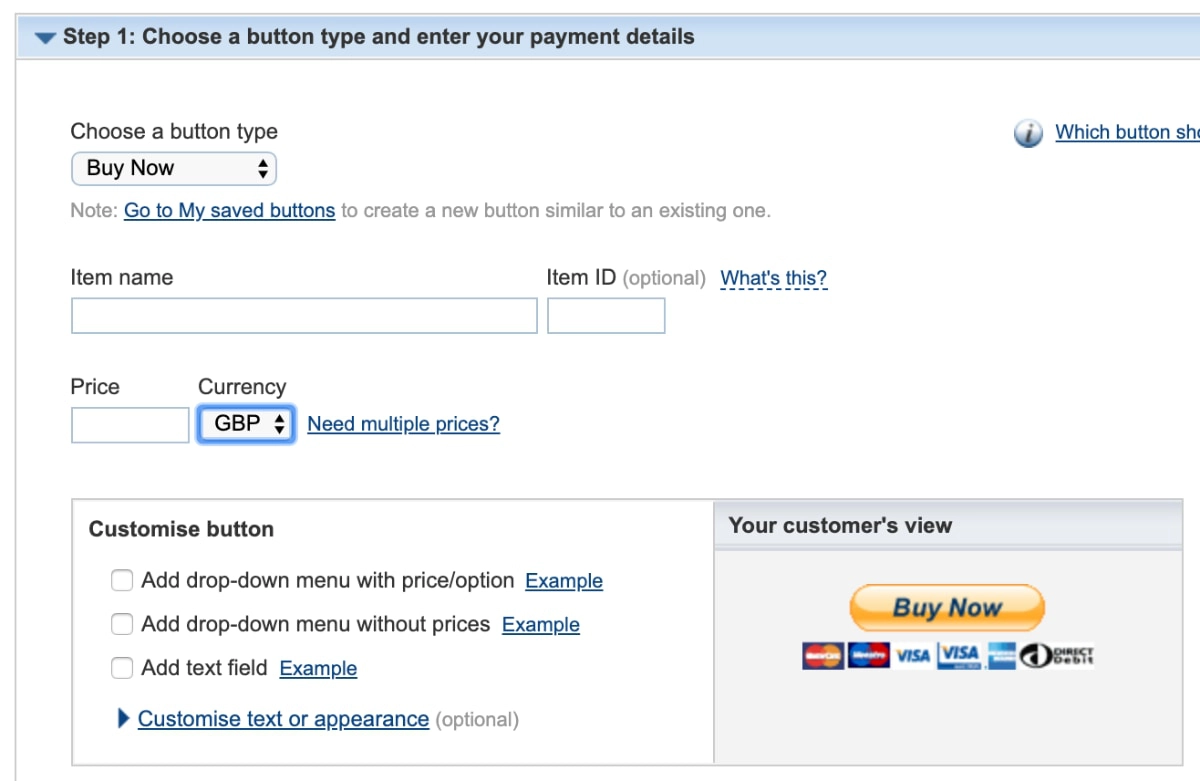 With a PayPal Business account, you can create unlimited 'buy links' to embed on any compatible web page.
4. Embedded Pay Now link on web page
Most ecommerce providers also allow you to create a 'Pay Now' button to embed on an exiting website or other web page where your products and services are listed. The transaction will then be processed by the payment solution, for example PayPal, Shopify Lite or Square.
QR codes
A few payment providers also offer QR code payments for different scenarios, although this is not so widely used as the other remote payments on this list. An example is Barclays's Pingit service, which has a web page where you can generate QR codes for payments from customers.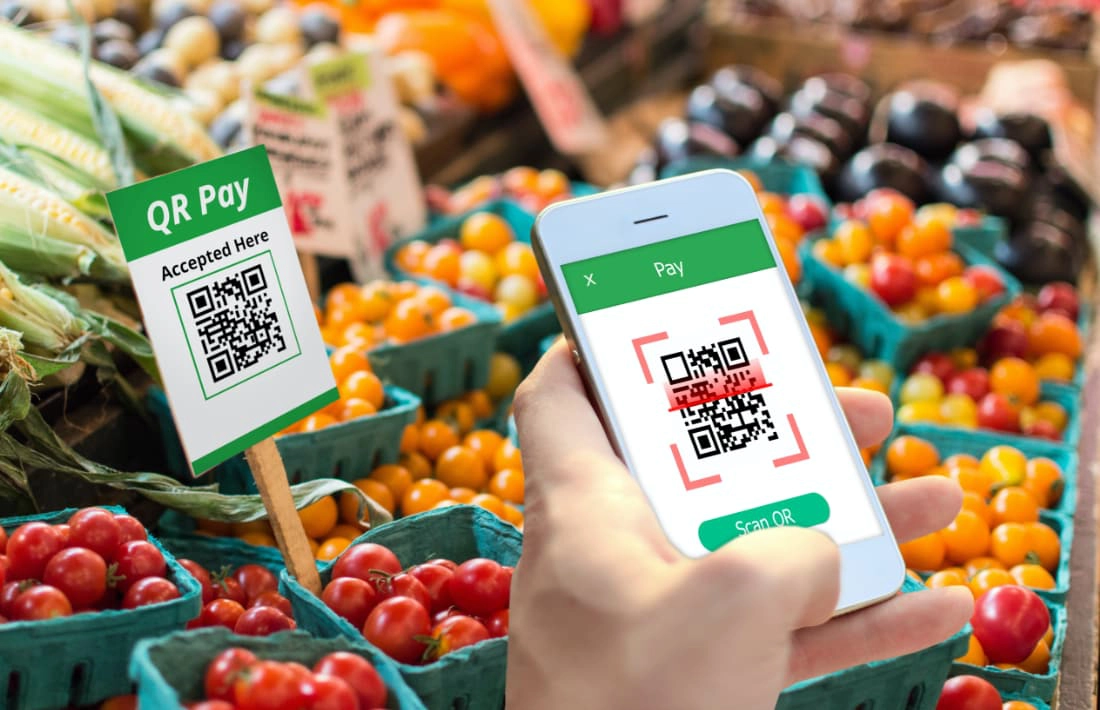 Some payment companies let you print QR codes that customers can scan to access a secure payment page on mobile.
If you've been a SumUp customer for a while, you may also ask to have mobile payments activated (not available by default), one of the options being QR codes. If the feature is activated, you can show customers a unique QR code from the phone or tablet at checkout, for them to scan with their phone camera. This will bring them to a payment page on their phone where they enter card details.
Card on file
Payment through a card on file is certainly not for everyone, as it relies on the customer to permit you to store their card details in a secure software system for future payments.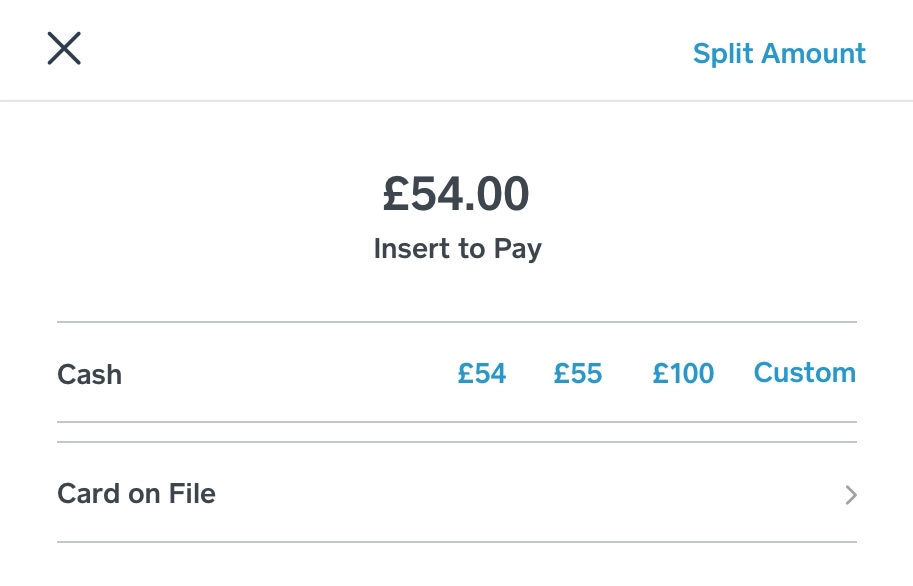 You can pick Card on File as payment method with Square.
This allows the merchant to process transactions without the customer having to do anything, which is handy for recurring payments for e.g. subscriptions or repeat orders. When the customer no longer wants to pay for your service, they withdraw consent, resulting in deletion of their card details.
A low-cost payment platform offering this is Square, complete with a consent process automated by the system.
What's best for you?
The above are some of the most effective solutions for getting paid without physical contact with a card. We can't tell you which is right for you, but clientele will have their preferences. Think about what they would use, and see how that fits with your current payment setup and type of service.
If there are any barriers for customers, such as unfamiliarity with mobile wallets, it's good to offer multiple options. The user-friendliness of the payment process is especially important for remote payments, as it is incredibly easy to change your mind about a purchase if the merchant is not there with you.

Try more than one method and see how it goes. Many providers don't require a subscription or monthly fees, only a transaction fee on a pay-as-you-go basis, so there's no loss if you don't accept a payment.