Mobile wallets store customers' credit and debit card details, allowing users to make contactless payments on a card machine.
As a business owner, you may notice more customers using this technology. Global Data marked a sharp 239% increase in mobile wallet users worldwide between 2017 and 2022. In the UK, there was a 10% rise in customers using mobile wallets in 2022 alone, since they were more secure and convenient during the pandemic.
You may therefore wonder whether you should cater to all customers by accepting all mobile wallets. To answer this, let's look at the digital wallets accepted by card machines in the UK.
What do contactless mobile wallets have in common?
The various mobile wallet providers actually share the same benefits for users and merchants, particularly in the realm of security.
Mobile wallets require that users save debit or credit card details in the app in an encrypted (hidden) format that can't be broken into. Transactions are then safely processed with encrypted 'tokens', which are essentially unique codes used only once for a contactless transaction.
In addition, users don't use their card PIN for contactless wallet payments on a terminal. Instead, a phone-specific passcode or biometric ID ensures that only the smartphone owner can tap to pay.
The most popular mobile wallets use near-field communication (NFC) technology for contactless taps on a card terminal. Since all card machines now accept contactless via NFC, vendors mostly won't have an issue with contactless mobile wallets.
Apple Pay
First on our list, we have the UK's leading digital wallet: Apple Pay. A whopping 69% of mobile payment users in the UK use Apple Pay over any other option.
How does it work? iPhone users activate the digital wallet by double-clicking a "lock" button and holding their device near the card machine. They authenticate payments using their Face ID, Touch ID or device passcode. Face ID is available on all new-generation iPhone models, including iPhone X and 11.
With this type of biometric authentication, customers benefit from an additional layer of protection preventing anyone else from using their mobile wallet. In contrast, anyone with a physical contactless card can make payments; authorised or not.
As iPhone has a higher than 50% market share in the UK, this payment method will likely stay dominant in the future. Fortunately, Apple Pay is compatible with all contactless card machines through NFC. Apple Watches and iPhone 6+ all have NFC chips and the option to use Apple Pay.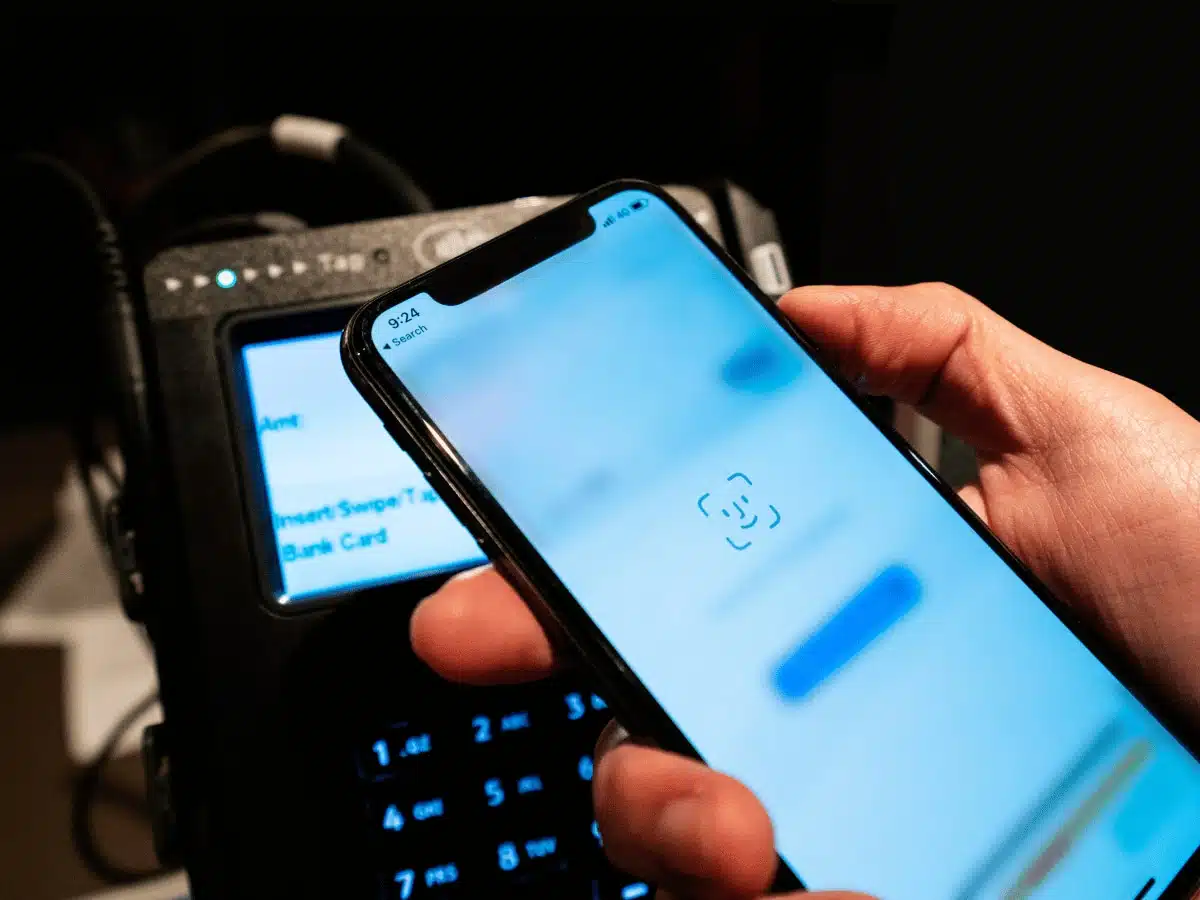 Biometric identification, like iPhone's Face ID, eliminates the need for entering a PIN or passcode.
Google Pay
Google Pay, the second leading wallet, was primarily designed for Android users in 2014. Still, other smartphones like iPhone and Sony Xperia can download it.
Ultimately, Google Pay doesn't offer customers any additional utility compared to, say, Apple Pay. It's just the default option for Android users.
Accepting this digital wallet prevents you from alienating the 48% of Android owners in the UK. But that's no issue, since all contactless card readers accept Google Pay as standard, as long as the payer has activated NFC on their Android device (iPhone users always have theirs activated).
Samsung Pay
As you may have guessed, Samsung Pay is the default mobile wallet for Samsung smartphone users. Most contactless card machines accept this, since it uses NFC technology just like Apple and Google Pay. To be sure yours does, check on your terminal provider's website or tech specs, or ask the company directly.
You can expect far fewer customers to use this mobile wallet than Google and Apple Pay due to the lack of banks supporting Samsung Pay in the UK. As of 2023, Samsung Pay only supports cards from American Express, HSBC, Santander, Starling Bank, M&S Bank and Danske Bank.
In comparison, practically all card issuers in the UK are compatible with Google and Apple Pay, so many Samsung users end up using Google Pay after all.
Although few use Samsung Pay, accepting it lets you tap into a growing customer base of those who do not have other digital wallets.
Garmin Pay and Fitbit Pay
Besides the widely known mobile wallets we've covered thus far, there are also niche options that cater to specific user groups – namely fitness enthusiasts. These are certainly less significant options. Garmin Pay, for instance, ranks among the lowest-used digital wallets in the UK.
Both Garmin and Fitbit Pay allow users to make payments directly from their wrist device. This eliminates the need for customers to carry a payment card, smartphone or physical wallet during workouts.
The wearable smart device uses a Garmin or Fitbit app where the payment cards are stored. Just like the other options on this list, the payer just holds the smart device above the card machine to pay via contactless.
Huawei Pay
Huawei is a Chinese smartphone manufacturer with its own mobile wallet, Huawei Pay. However, due to a perceived "threat to national security", the UK government deems the company a "high-risk vendor", meaning that Huawei equipment must be removed from 5G public networks by the end of 2027.
This doesn't mean Huawei phones are banned, just that various restrictions make it less attractive to have them. For one, major mobile phone providers like Three and Vodafone do not sell them. Instead, you can only buy them outright directly from Huawei or third-party retailers for a high price, so few can afford them.
Additionally, UK banks do not support Huawei Pay, so UK-based Huawei smartphone users will typically not be able to make payments with it. As of 2023, this digital wallet can only be used for things like storing tickets and loyalty cards.
There are ways around this for Huawei users, though. They could download and save their bank cards in a payment app like Curve Pay, which works via NFC on most contactless card machines.
PayPal
Known primarily for online transactions, business owners may not realise that PayPal offers a sort of mobile wallet for in-person transactions – but via QR code, not contactless NFC. PayPal is not as popular as other mobile wallets, since it requires both the customer and vendor to have PayPal accounts.
To accept this option, the merchant needs the PayPal Business app to generate a QR code on their phone. This allows the customer to scan the code with their smartphone camera to complete the transaction using their PayPal login on their phone.
Though admittedly less convenient for everyone involved, it's not totally without merit. PayPal can be handy if one of your customers doesn't use contactless mobile wallets or you're dealing with international customers who are more familiar with PayPal than, say, Google Pay.
Final thoughts
Since all contactless card terminals accept NFC-based payment methods, and the two most popular contactless wallets (Apple Pay and Google Pay) work with NFC, merchants are likely going to accept plenty of these digital wallets.
No special setup is required from the merchant side, unless the card machine is an old model requiring an installation that should have been done years ago.
Samsung Pay has more limitations for customers than business owners, since fewer card issuers support it, whereas card readers accept it with no issues.
Embracing more niche options like Garmin Pay and Fitbit Pay ultimately allows small businesses to cater to diverse customer preferences. This can be invaluable in retaining and growing your customer base.
Although PayPal QR code payments are more tedious to accept, it could work for ecommerce customers who feel more comfortable with the PayPal brand.