Our rating
Square Terminal is a stylish payment terminal that works without a connected till.
With the touchscreen card machine Square Terminal, you don't need a connected tablet or computer – just the terminal is fine to manage your till point. Added bonus? Square's simple pricing and no lock-in.
Pros: No monthly fees or lock-in. Receipt printer. Good battery life. Purchase in instalments. User-friendly and compact. 24/7 support. 2-year warranty. Offline mode.
Cons: Terminal software not expandable. Doesn't work with 3G/4G. Hub for cash drawer costs extra.
Buy if: You want to save money and counter space by using one compact terminal as your POS system.
Buy Square Terminal for £149 + VAT or pay interest-free instalments for 3, 6 or 12 months. No ongoing fees or lock-in. Free delivery in 2-3 working days.
Mobile Transaction is an independent payment industry resource trusted by over a million small businesses per year.
We allow solution providers to offer product discounts for the benefit of our readers. These discounts do not influence our editorial content such as reviews or recommendations. Ratings are based on full retail price. (Full policy)
How Square Terminal works
Square Terminal works as a standalone payment and POS terminal with software and receipt printer built in (as opposed to Square Reader). It accepts chip and contactless cards (with a slot for foreign swipe cards), or you can key in card details manually for phone payments.
Accepted cards










Contrary to traditional card machines, Square Terminal handles more than card payments. You can, for example, accept gift cards and edit your product library on the terminal.
The card machine has the Square Point of Sale software built in, which you navigate on the touchscreen. Customers enter their PIN on the touchscreen too. The terminal cannot change to the Square for Restaurants, Retail or Appointments interface, but may work in sync with those POS apps.
All transactions and activities on the terminal are connected to your backend Square account where more complimentary features, ecommerce tools and integrations are available.
The payment terminal needs to be connected to the internet via WiFi. Optionally, you can purchase a Hub for Square Terminal that allows you to connect via Ethernet cable. It does not work with 4G or other mobile network connections, but accepts chip and PIN offline as long as it is back online within 24 hours.
Square Terminal can be linked with the Point of Sale app on an iPad, iPhone or Android device, providing a distance between the till screen and card machine. It's also possible to connect the Square Virtual Terminal with the card machine, in this way creating transactions on a laptop to be paid by chip or tap in person.
Fees and payouts
A major upside to Square is its simple costs. You just pay for the terminal, then a fixed transaction rate for any debit and credit cards processed. There is no minimum sales volume required, payout fees or contract lock-in. Unless you have opted to pay for the terminal over a number of months, there are no fixed monthly costs either.


The Square card machine costs £149 + VAT upfront. Alternatively, you can choose to pay in instalments of 3, 6 or 12 interest-free monthly payments (subject to credit check and approval). If you pay over 6 months, the monthly instalment is £25 – an attractive option for many startups. The repayments are handled internally by Square, not by a third-party provider, and the first payment is taken when you place the order.
Charges
Square Terminal – upfront price
£149 + VAT
Square Terminal – instalments
£25 x 6 months
Hub for Square Terminal (optional)
£29 + VAT
Shipping
Free
Chip & contactless card rate
1.75%
Key-in card rate
2.5%
Ecommerce transaction fees
European cards: 1.4% + 25p
Non-European cards: 2.5% + 25p
Settlement in bank account
Free
Instant Transfers (optional)
1% added to card rate
Refunds
Free
Chargebacks
Free
If you're connecting the terminal to other hardware, you'll need the Hub for Square Terminal costing £29 + VAT.

In Square's store, you can buy the following compatible accessories:
Countertop mount: £15 + VAT
Belt clip: £45 + VAT
Barcode scanner: £74.99 + VAT
Transactions cost a fixed rate, 1.75%, for all chip, contactless and swipe card payments through the terminal regardless of card brand, country of issue or whether it is premium. All key-in payments through the terminal, Square Invoices or Virtual Terminal cost 2.5% per transaction. Ecommerce transactions via the online store or payment links cost 1.4% + 25p for European cards and 2.5% + 25p for any other cards.
Refunds are free to process and chargebacks incur no admin fees. You even get free payment dispute support from the Square team, in case a chargeback should incur.
Transactions are automatically cleared – for free – in your bank account within 1-2 working days. If you want the money faster, you can activate Instant Transfers in your account and a 1% transaction fee will be added to the card rate – you then receive the money in your bank account nearly instantly (within a couple of hours). For example, for chip and PIN cards, you pay 2.75% per transaction with Instant Transfers.
Photo: Emily Sorensen (ES), Mobile Transaction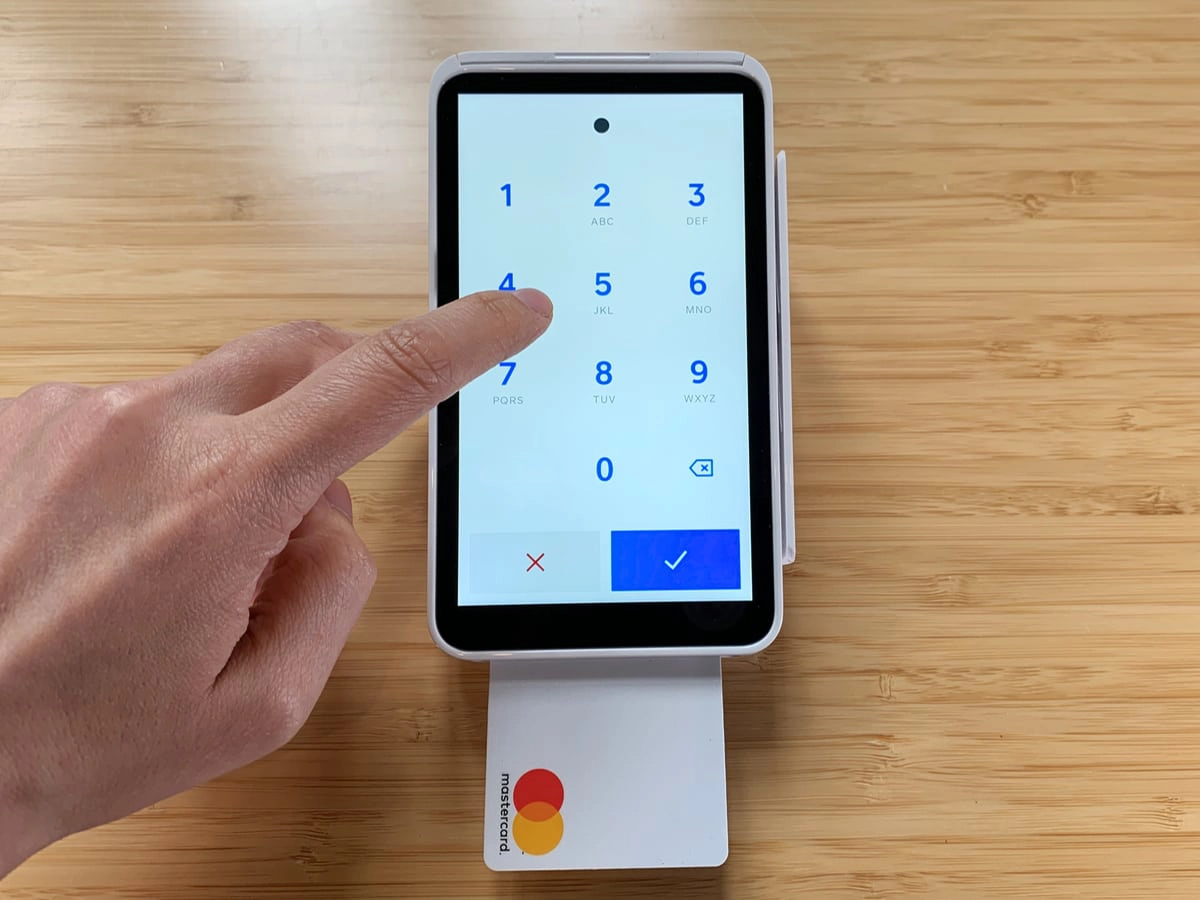 PIN on glass – i.e. on the touchscreen of an industry-approved terminal like Square Terminal – has been deemed highly secure.
Physically, it's a bit heavier than a traditional Ingenico card machine (417 g versus circa 300 g). This is due to the large screen, compared to the small screen of a mainstream terminal with a PIN pad. Underneath are two rubber strips to keep it stable on a desk, and a hole if you need to screw the terminal to a surface.
The battery can last all day without a charge, which is impressive given the large, energy-consuming touchscreen. However, we found that leaving it on standby drains the battery completely by the next day.
Photo: ES, Mobile Transaction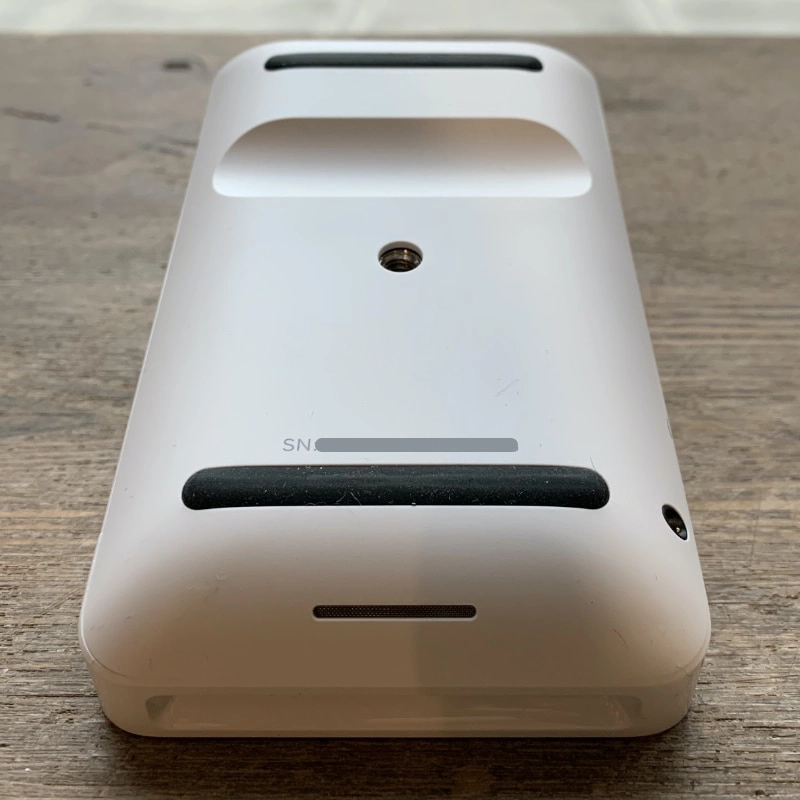 Therefore, we recommend switching it off completely when you don't plan on using it to avoid having to recharge it first the next time you need it.
Photo: ES, Mobile Transaction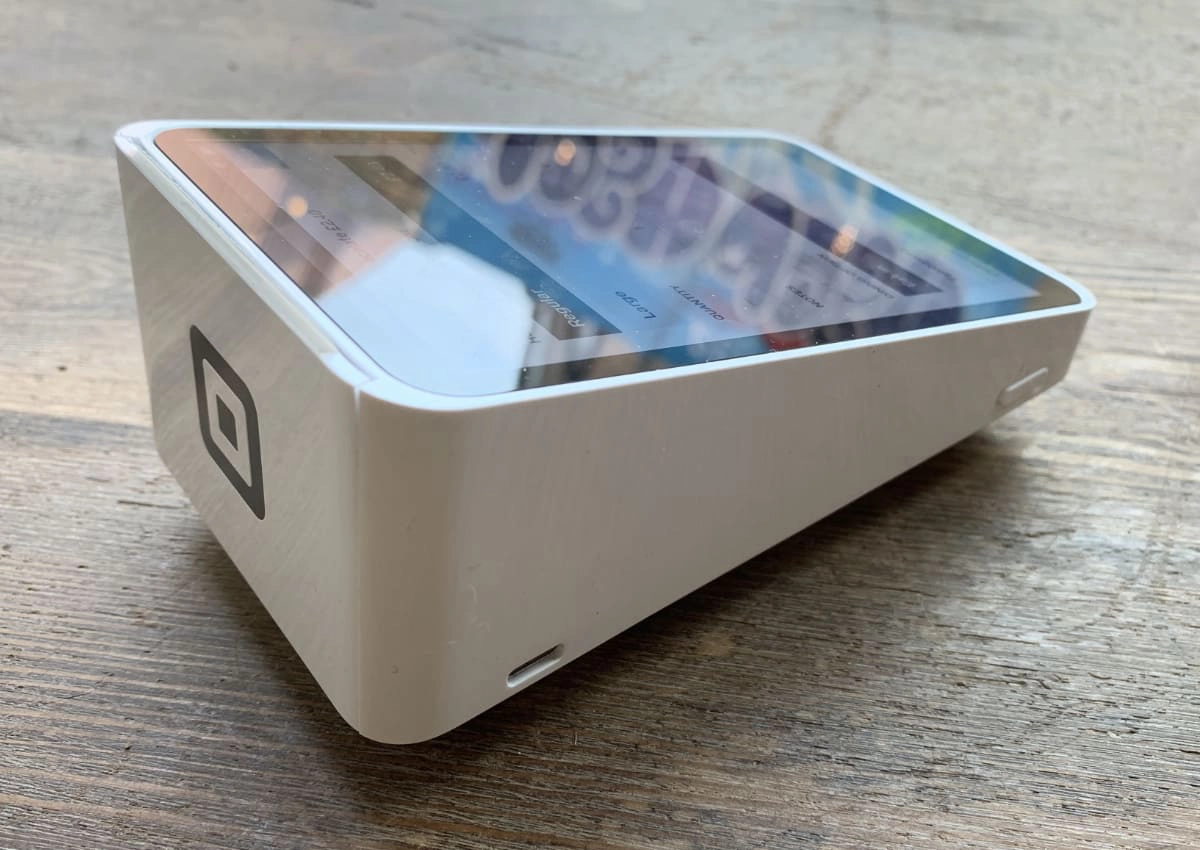 The power cable socket and power/standby button are on the left side of the terminal.
Because it runs on a local, secured WiFi connection, it can be used across your premises, for example for payments at the customer's table. The Ethernet connection through the Hub could be necessary if your WiFi is unreliable, but then you have to keep the Terminal connected at the till point.
It's possible to accept chip and PIN, Apple Pay and Google Pay offline, but not contactless cards, as long as you get back online within 24 hours to finish processing the payment through the internet.
Tech specs
Dimensions
142.2 (L) x 86.4 (W) x 63.5 (H) mm
Screen size
139.7 mm (5.5″)
Weight
417 g
Data
WiFi (secured network only), Ethernet via Hub (extra cost)
Card technology
EMV (chip), NFC (contactless), swipe
Battery life
All day from full charge
Built-in receipt printer
Uses 57 mm (width) x 35 mm (diameter) thermal receipt paper
Accessories included
Square Terminal, power adaptor, receipt paper roll, 'accepted cards' decals
The software is basically the Square Point of Sale app (downloadable on a mobile device as well). Its checkout screen has three options for adding to the shopping cart: enter price amounts manually, tap to add products from the library or tap to add from a 'favourites' grid. You can create open tickets straight from the checkout screen and save them for quick access. It's also possible to customise the bottom menu to include the functions you use the most, e.g. Reports.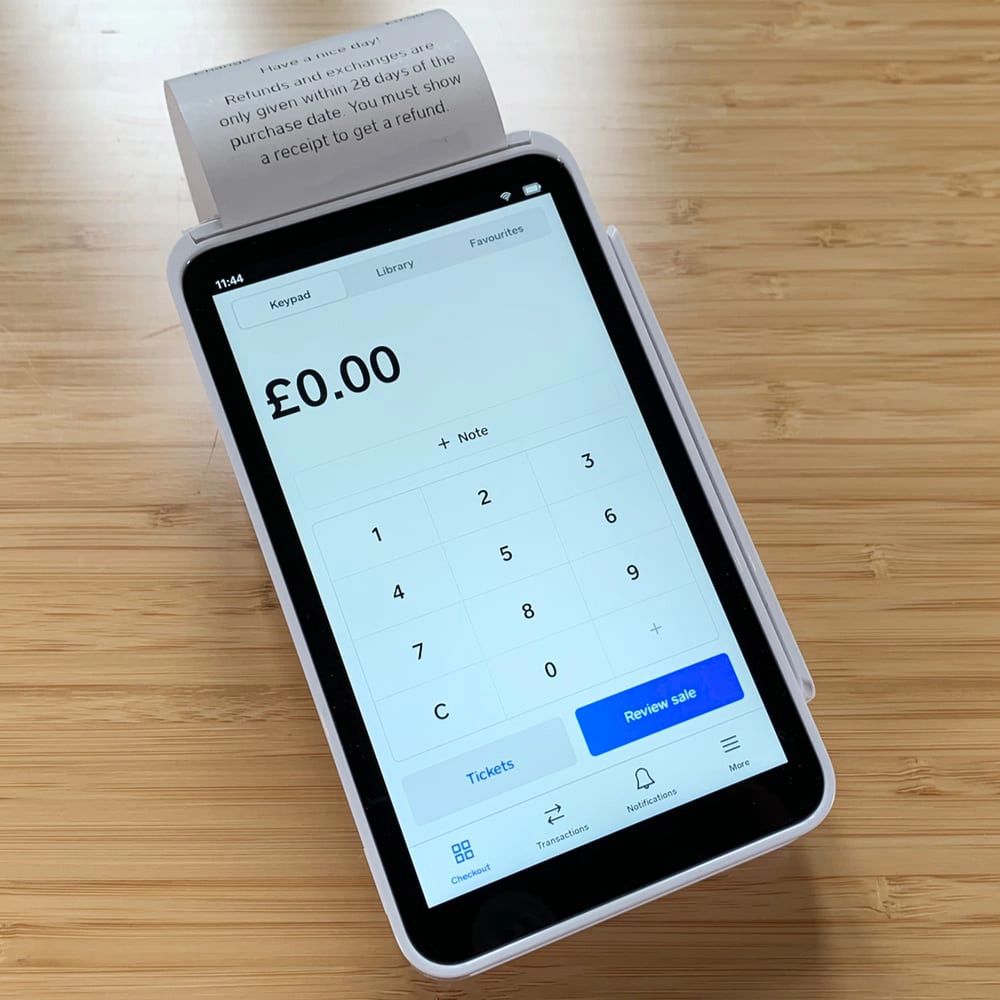 Enter an amount to add to the bill.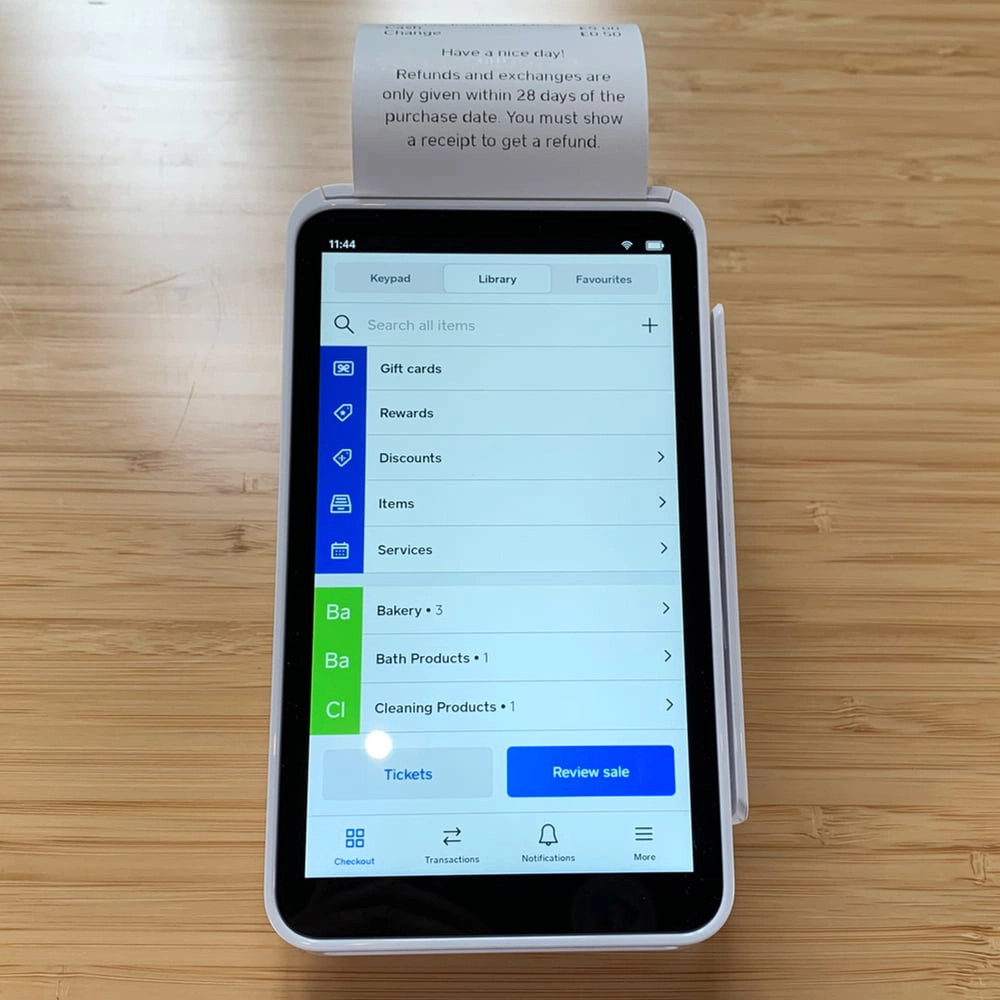 Product menu as the checkout screen.
The checkout flow and products can be edited on the terminal – no need to log in on a computer to do it. Add product variants like size and colour and enable the Eat-in, Takeaway, Delivery or Pickup options if you're a café, all of which can be selected during the checkout flow.
What about payment options? You can accept cash, payment cards and mobile wallets, a card on file (saved in the customer library), gift cards (issued from the terminal too), invoicing and manually-entered card details. Split the tender and add either custom or preset tipping amounts. Once the transaction is complete, choose either to print, email or text the receipt.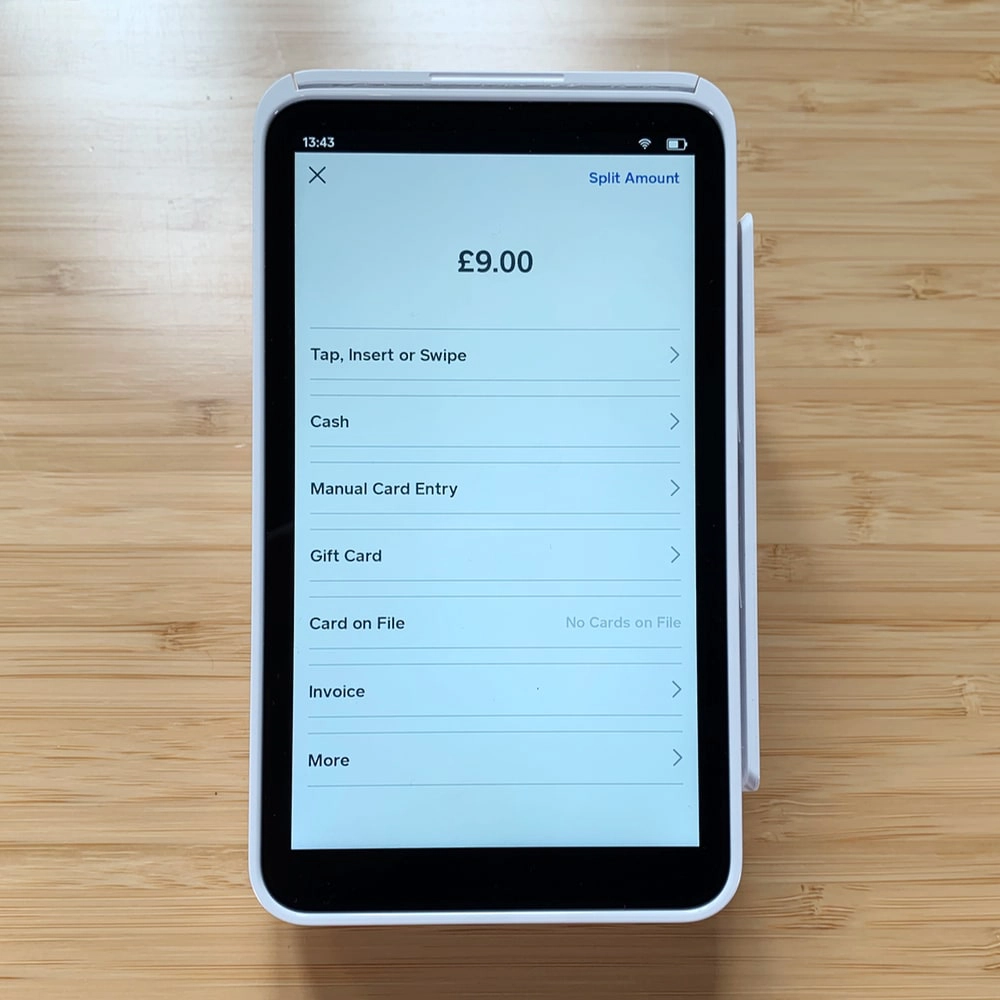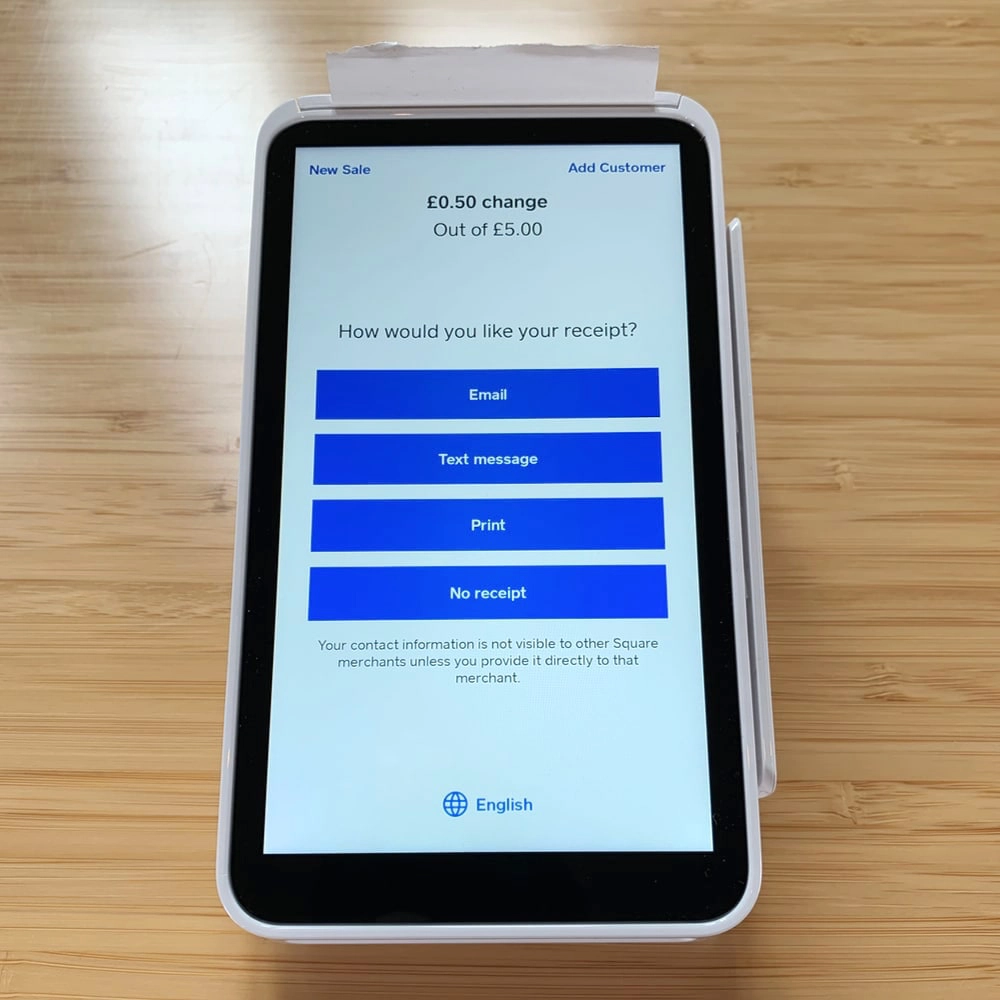 Receipt options after a transaction.
The customer library enables you to add a person to the invoice rather than entering recipient details manually. You can create and send Square Invoices directly on the terminal, accessed from the side menu. Over-the-phone payments are also possible – just add products or enter an amount on the regular checkout screen and choose manual card payment as the payment method.
If you use the browser-based Virtual Terminal, transactions can be sent from your computer to Square Terminal for a chip or contactless payment. As long as the card payment was completed by contactless or chip and PIN, the fee is 1.75%.
Transactions, sales history and reports are viewable on the terminal. In fact, you go to Transactions to process a refund (itemised or custom amount) or resend a receipt via email or text. Receipts are customisable, and food places can set the terminal to print order tickets. Pickup and delivery orders paid for online can be managed on the terminal, which is handy for order fulfilment.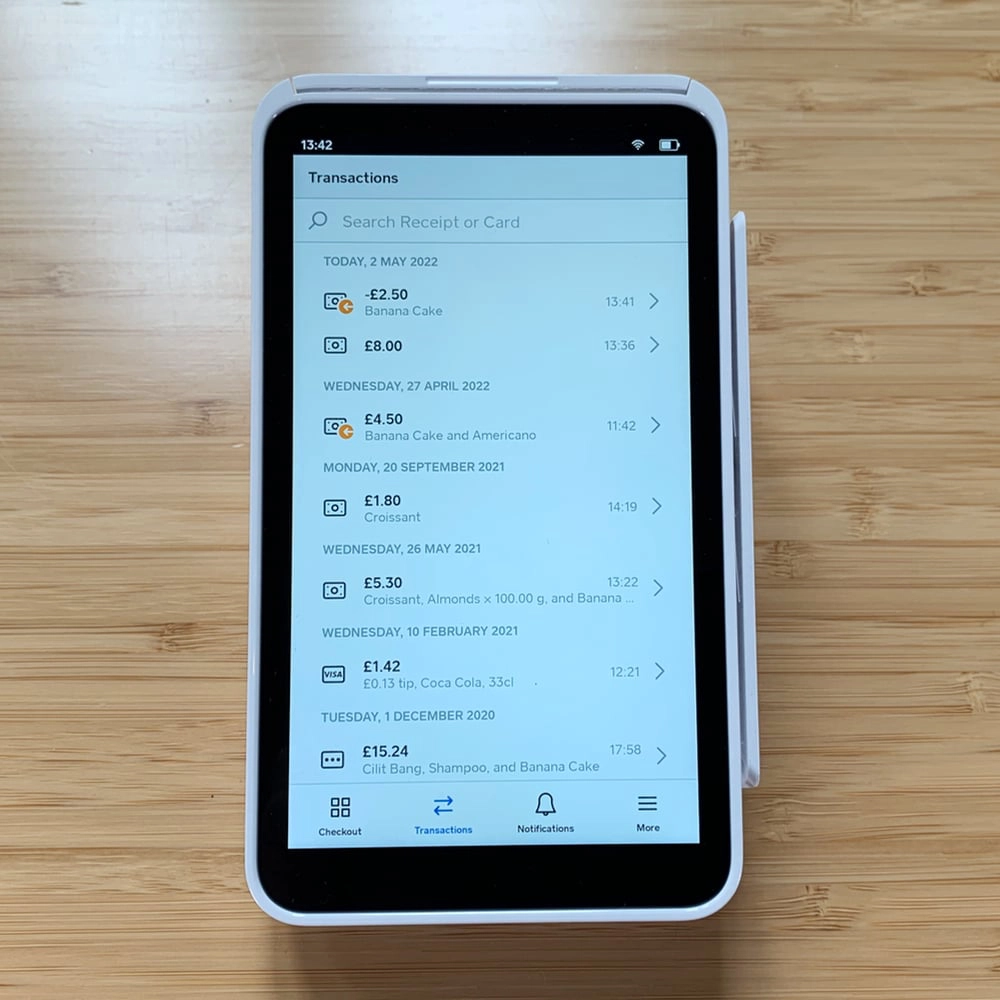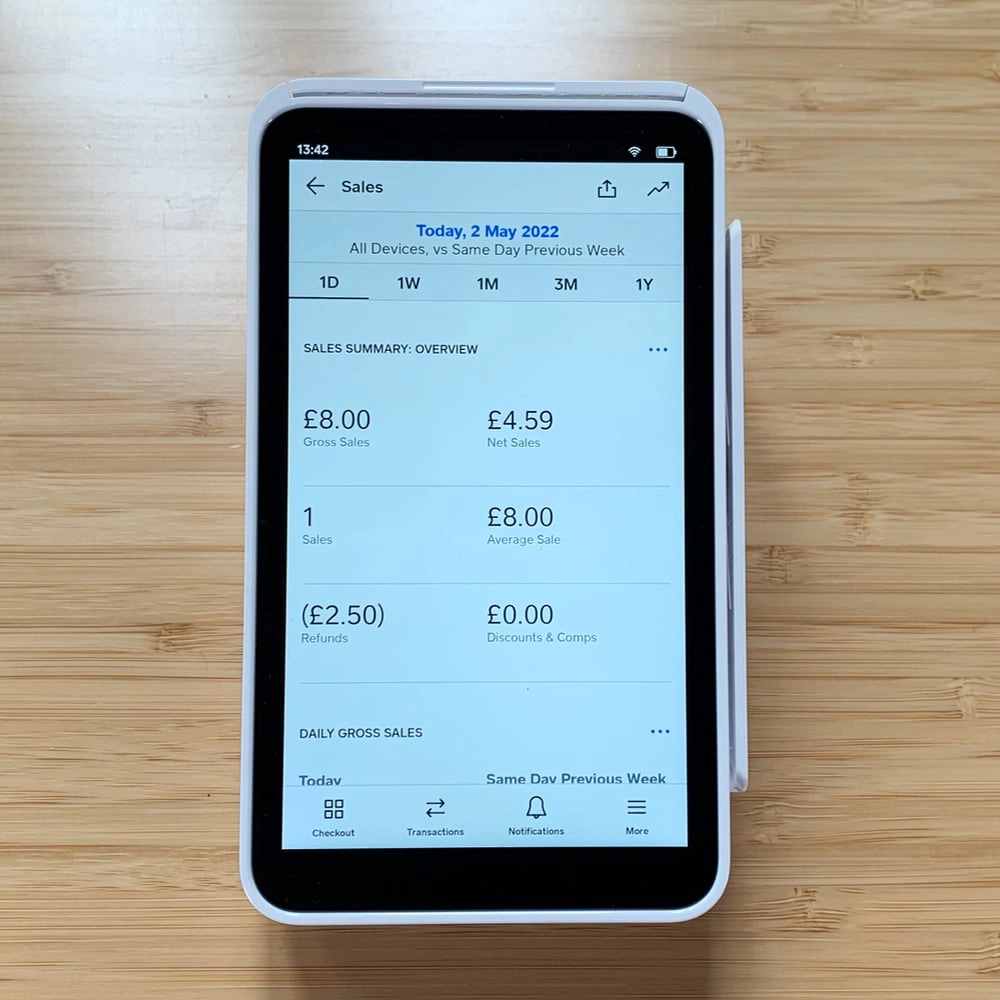 We noticed one feature that Square Terminal could not access, that is available in the mobile app: payment links and QR code payments. This means you cannot send links or generate QR codes for payments on Square Terminal. We found this a little odd considering the popularity of such payments.
However, Apple or Android devices with Square Point of Sale installed can connect with Square Terminal instead of Square Reader (the recommended card reader for the mobile app). With this arrangement, you have slightly more features on the tablet or smartphone, such as payment links. It is not yet possible to connect Terminal with Square for Restaurants, Retail or Appointments.
Photo: ES, Mobile Transaction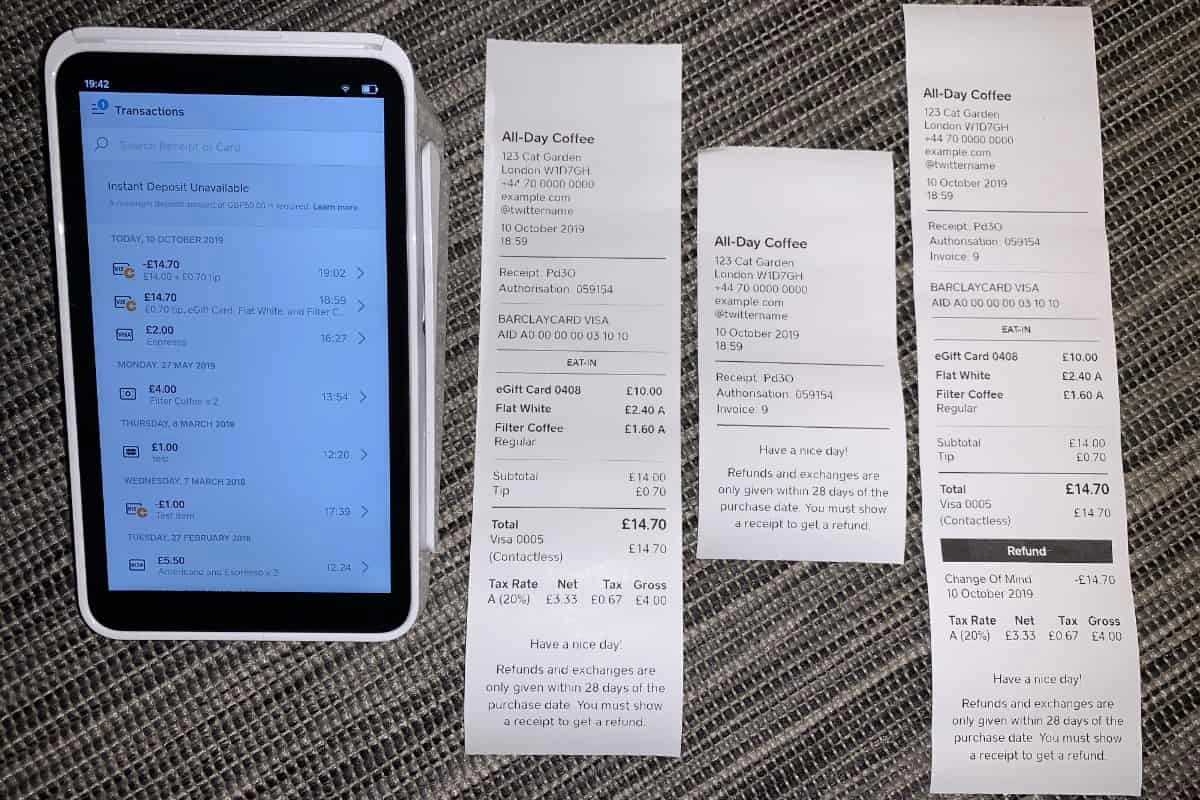 Square's built-in receipt printer produces itemised and customised receipts, as opposed to traditional card machines that only display transaction totals.
The software is updated automatically daily when the Terminal is connected to the internet. So prepare to wait for the update to process when you switch on the terminal every day (it took minutes on most days we tested it). For increased security, set the terminal to require password login every time it's used. You can reset the password on the terminal if needed.
Square Terminal vs Square Reader
Given how cheap the Square card reader is, you may be wondering why there's a big price difference. Put simply, Square Terminal is a premium, self-sufficient card machine from Square, while Square Reader has no screen, no PIN pad, no receipt printer and no app features on the card reader itself. The Reader is fully dependent on the Square POS app on a connected smartphone, iPad or Android tablet.
Another major difference is connectivity. Square Reader uses Bluetooth to connect to a mobile device running the POS app, and it is the mobile device that connects to the internet through its SIM card (using 3G or 4G) or WiFi. Square Terminal directly connects to the internet without the need for a phone or tablet, but then it cannot use a 3G/4G network, deeming it useless in places with no secured WiFi or fixed Ethernet setup with Square Hub.
Photo: ES, Mobile Transaction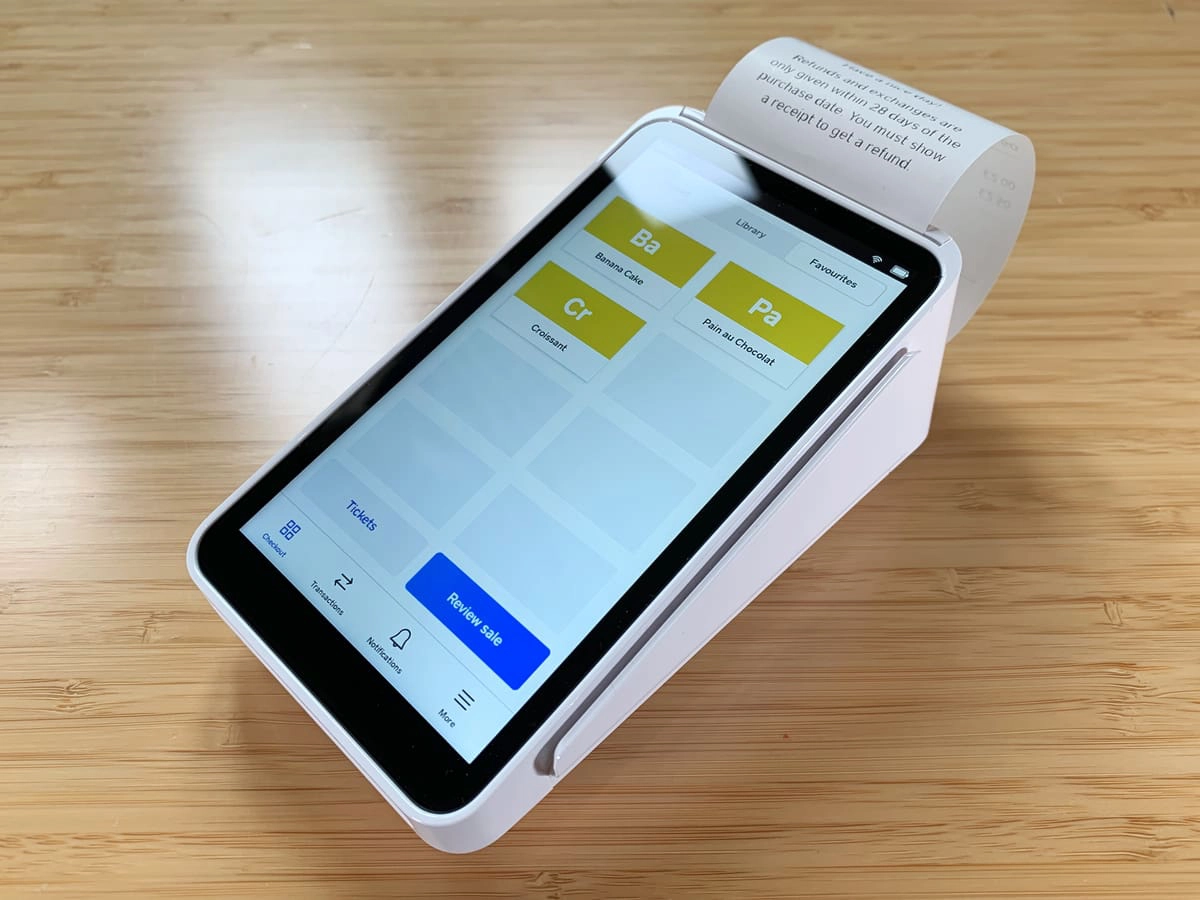 Square Terminal prints detailed receipts and has swipe card functionality, unlike Square Reader.
On a practical level, Square Reader is tiny compared to the Terminal, so it's very convenient on the go. Of course, this requires using both the card reader and phone or tablet, and some customers may be hesitant entering their PIN on your mobile screen.
Square Terminal's PIN entry is more practical since it happens on the terminal directly, although you do have to create the transaction first before handing the terminal to the customer. But if you connect Terminal with the Square POS app on a mobile device, you can leave the card machine facing the customer while you use the POS screen on a different device.
Hardware integration
If you wonder "how does this work with the rest of the POS system", we should emphasise the terminal is the POS system. That said, you can still connect it to up to three hardware pieces through the optional Hub for Square Terminal (purchased separately for £29 + VAT). The Hub connects to the terminal via a cable and has three USB ports for POS hardware and one Ethernet socket for internet.
Square Terminal Hub has three USB ports for optional POS accessories.
Compatible till equipment is plugged into the Hub's USB ports (Bluetooth not accepted) and includes:
Receipt printers
Kitchen ticket printers
Kitchen display
Cash drawers
Barcode scanners
You may alternatively just use Terminal for the card acceptance part, allowing distance between you and customers. This requires a tablet or smartphone with Square Point of Sale in the vicinity or a computer with Square Virtual Terminal open (can be placed remotely). A connected Terminal could then be fixed to your countertop.
It's perfectly possible to run the Square POS system separately on a tablet at the till with Terminal taking payments independently elsewhere, as long as they're connected to the same Square account.
Reporting
On the card machine, you can view sales history, generate custom reports, track cash drawer activity and sales by team member.
Square users have backend (browser) access to sales reports sorted by date, location, time period and more, and reports can be exported to Excel. There are lots of other free analytics on gift cards, popular sales categories, sales trends, transaction status, discounts, employee sales, etc. Custom reports can also be created.
If these are not enough, you can integrate your Square sales with more advanced accounting and reporting tools including QuickBooks, Enterpryze, KashFlow, Shogo, Xero and Zoho Books.
Who is Square best for?
If you're a small shop, café, hairdresser or any type of merchant who doesn't require massively complicated POS features, Square Terminal will save you counter space and money because you don't need to buy a receipt printer, tablet or touchscreen monitor. And if you're cashless, the terminal would be all you need.
If your sales are primarily online, but you also have a brick-and-mortar store, the simple Square Terminal checkout could be what you need to connect those sales without superfluous equipment to fill your face-to-face shop.
It works best in locations with a fixed WiFi connection or a till point with an Ethernet cable. We would not recommend it for use on the go where WiFi networks can't be depended on (since it lacks a 4G connection), but you can always accept chip and PIN and mobile wallets offline.
Of course, if you're already using Square Reader, there's no faff changing over to Square Terminal. It is only if you require more custom features that we recommend looking for a card machine that connects with advanced POS software.
Customer service and user reviews
Square provides 24/7 support over the phone exclusively for Square Terminal users. This is more than what's available with Square Reader that only entitles you to weekday support during work hours. There's a very helpful Support Centre on the website, which answers most questions.
Furthermore, you get a two years' warranty on the terminal and 30-day cooling-off period during which you can get a full refund if you don't like the product.
Customer reviews in the UK are generally very good, implying the service works smoothly. Occasionally, users complain about sudden account closures and funds being held by Square, which is a security mechanism designed to weed out high-risk transactions or business sectors that Square considers high-risk.
Square just requires you to complete a short sign-up form with basic business and personal information. They will assess the information and check the validity of your bank account, but you are able to start selling straight after sign-up through the complimentary online invoicing tool, payment links and virtual terminal.
The pricing is already set since it is the same for everyone, in contrast to many payment companies that like to get on a call to get business information before giving you a quote.
It takes 2-3 days for your terminal to arrive after placing the order. The card machine is so intuitive that you don't need a manual to set it up – just make sure your WiFi is working.
Photo: ES, Mobile Transaction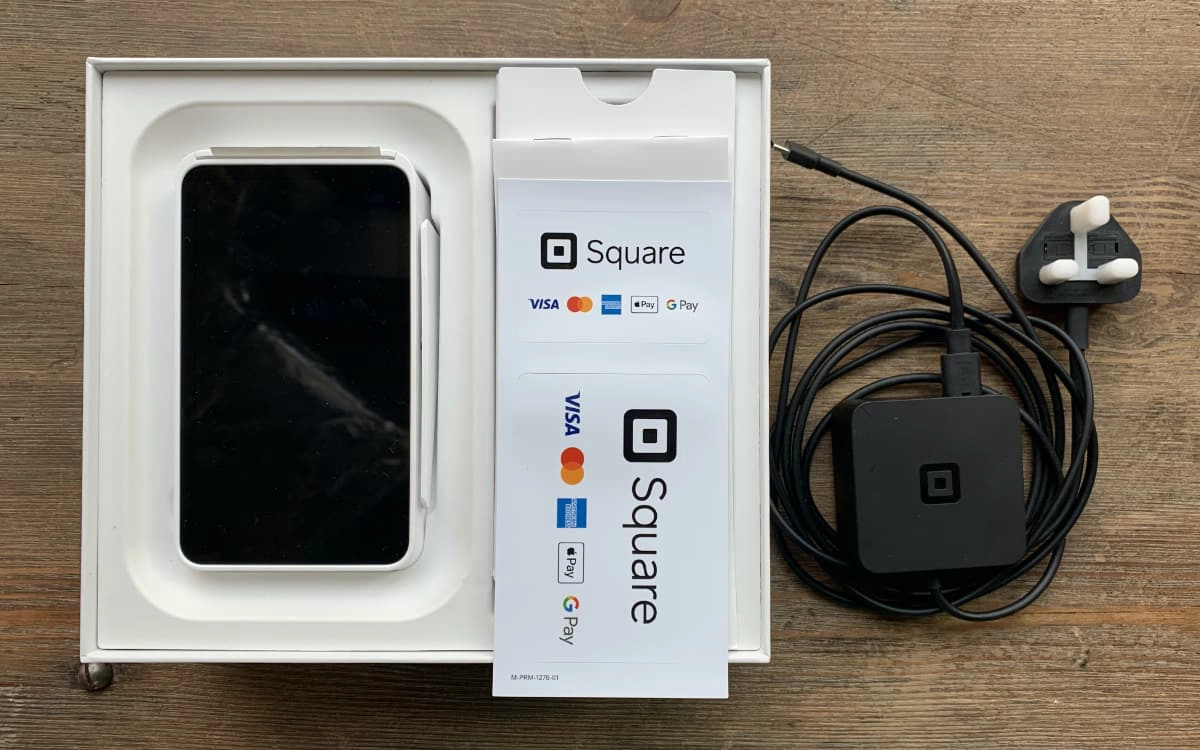 Square Terminal comes in a sturdy, white box (looks like an Apple product) containing the terminal, power cable, decals and 'get started' booklet.
Your bank account can take around 4 days before it is properly set up to receive payouts. Any transactions accepted by then will just be held by Square until they can clear in your bank account.
Our verdict
If you're looking for a compact, affordable point of sale without lock-in or complicated fees, Square Terminal is a strong contender. The sleek payment terminal fits nicely in a small shop that doesn't need complicated checkout software, receipts are detailed, the battery life is great and the offline mode helps when the internet goes awry.
In addition, there are plenty of add-on features like an online store builder, invoicing, phone payments and connecting with a wide range of business tools. Some of these have different charges, but using the Terminal only costs the transaction fee.
| Square Terminal criteria | Rating | Conclusion |
| --- | --- | --- |
| Product | 4.5 | Good/Excellent |
| Costs and fees | 4.3 | Good/Excellent |
| Transparency and sign-up | 4.5 | Good/Excellent |
| Value-added services | 4 | Good |
| Service and reviews | 4 | Good |
| Contract | 5 | Excellent |
| OVERALL SCORE | 4.3 | Good/Excellent |
Square Terminal's 24/7 support and 2-year warranty also ease concerns about durability when competing card machines by Zettle and SumUp only offer a 12-month warranty and limited support hours. With the monthly instalments, you don't even need to pay for it in full upfront.
The main downside is its lack of mobile connectivity when out and about. Plus, it is not yet possible to use it with more specialised POS apps like Square for Retail and external EPOS like Vend.
Bottom line: Square Terminal is overall excellent value for a small shop that doesn't want monthly fees or commitment.