If you've been to a pub, cafe or festival recently, you may have noticed traders using their iPhone (or other smartphone) to take credit and debit card payments.
Perhaps you've wondered how you can do the same? If you run a small business or are a sole trader, the ability to take payments like this opens up a whole new way to sell your products – often resulting in customers spending more with you, or buying something they wouldn't have got otherwise.
Thankfully, taking card payments with your smartphone is straightforward and inexpensive. But how exactly do you do it?
What is a mobile point of sale?
A mobile point of sale is the system you have in place to accept payments from customers face to face via your mobile phone.
The popular way to do this today is to use a simple card reader device linked to an app running on your phone. The app connects to the internet to authorise payments, so you can take payments anywhere with a web connection through 3G, 4G or WiFi. This means you can be hugely flexible in where you can take card payments, making it a truly mobile solution.
A mobile card reader allows customers to tap, insert or swipe their card, enter their PIN or sign on the smartphone if the card requires a signature. Many payment apps also allow you to register cash transactions so you can track all your transactions in one place.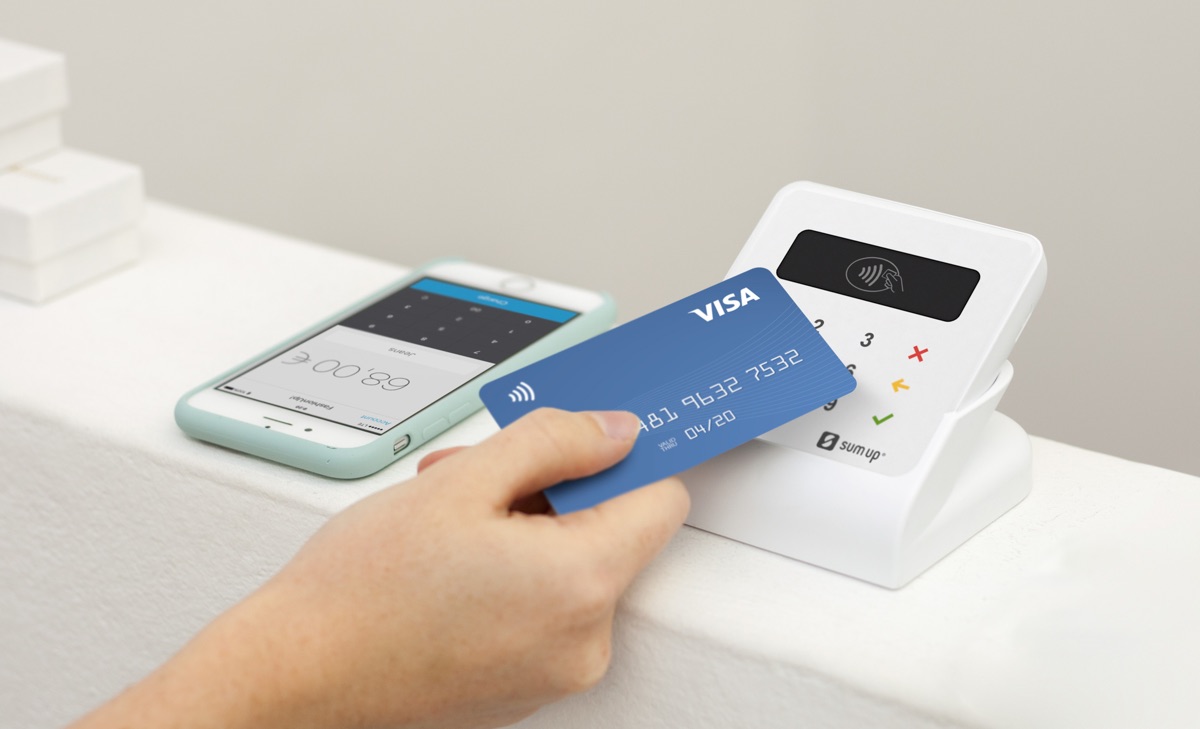 The SumUp Air card reader connected via Bluetooth to an iPhone during a contactless card payment.
Card readers can range from very simple devices with a card slot to more sophisticated devices with their own display screen and keypad for PIN entry. Most machines link to your phone using a wireless Bluetooth connection. Older card readers used cables to connect with the mobile phone.
Early card readers introduced in 2011 connected to the phone through the phone's audio jack and required a signature for authorisation. New card readers use contactless/NFC technology (accepting digital wallets too, such as Apple Pay) and chip and PIN as the default methods rather than chip and sign technology, which is now largely phased out in Europe.
How to get started
To get started taking card payments via your mobile phone, all you need to do is sign up with a suitable provider and order your card reader. Then you just install the relevant app on your iPhone and link it to the card machine.
The most popular solution currently in the UK comes from iZettle. Their iZettle Reader 2 machine connects to your iPhone via Bluetooth, has its own display, and takes chip & PIN and contactless payments including Apple Pay. Apart from the (low) one-off card reader cost, you just pay a fixed transaction fee per card payment you process, and there's no contract to commit to.
This kind of deal is getting more and more common among mobile card reader providers. For instance, SumUp and Square offer similar deals based on a small fee for a card reader and an ongoing transaction-based commission charge. All of these allow you to get up and running taking mobile card payments quickly, while also being very affordable for small businesses.
The list of available mobile point of sale solutions evolve year after year, but providers are generally simplifying their pricing plans (many used to have complex or hidden fee structures) and adding more features to make their app self-sufficient point of sale systems. All of these providers have iPhone-based solutions, so you have an abundance of choice.
Just a decade ago, it would have seemed like science fiction for a single trader to accept contactless payments from a phone or Apple Watch. Now, it's a reality – and costs next to nothing to get started.