Gone are the days when everyone took cash, but are conventional card machines also phasing out in favour of the latest smart POS terminals?
First, the basics: what does the general term smart terminal mean? The name has been around since the early days of computing, so the explanation is not exclusive to card payment technology.
Originally, it refers to any electronic terminal rendering graphics or with some microprocessing capability independent from a host computer.
In the context of card payments, the best way to explain is to compare with the still prevalent simpler card machines.
Smart terminal definition
Card payments context, today: Card payment terminal with additional functionality added to enhance point of sale (POS) operations.
Card payments context, originally: Electronic payment terminal able to accept smart cards (with built-in microprocessor such as a chip).
Original definition: Any terminal (computer, card machine, etc.) with internal processing capability independent from external host computer.
Traditional card machines
A traditional card machine is also referred to as POS (point of sale) terminal, PDQ (Process Data Quickly) terminal, EFTPOS (Electronic Funds Transfer at Point Of Sale) machine, or simply a credit card terminal – many names, same thing. This is still the most common kind of payment terminal, although it comes in different sizes, shapes and produced by different manufacturers.
Its sole purpose is to accept payments by chip, contactless or magnetic stripe. The terminal reads the credit or debit card (or mobile phone with the card saved in a digital wallet), then processes it over a secure internet connection. It typically finishes off by printing a receipt for the transaction to confirm the payment was successful or that it had failed.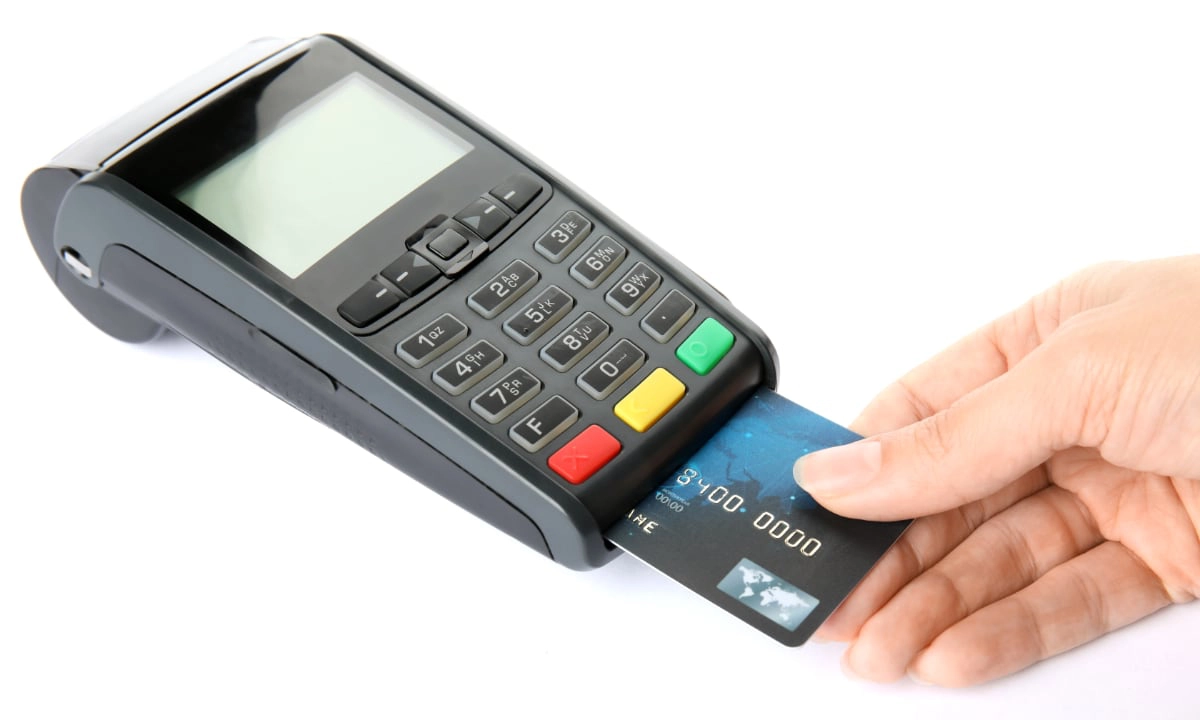 Traditional payment terminals are often called "card machines" as card payments are their sole purpose.
There may be other features on a traditional card machine, such as manual entry of card details for over-the-phone payments and the ability to print Z reports at the end of a trading day, detailing sales totals by card type, failed transactions, refunds and so on.
But the point is: these are all features related to card transactions.
Until recently, you didn't depend on the card terminal to perform more of your point of sale (POS) operations in the same device.
Card machines processing cards with an inbuilt microprocessor are referred to as smart terminals (…) but the definition in today's world has shifted towards the unfolding trend of touchscreen card terminals.
Now that more people are used to iPad and other tablets, smartphones and touchscreen interfaces in e.g. supermarkets and check-in terminals in airports, it comes as no surprise that this should extend to card payment terminals.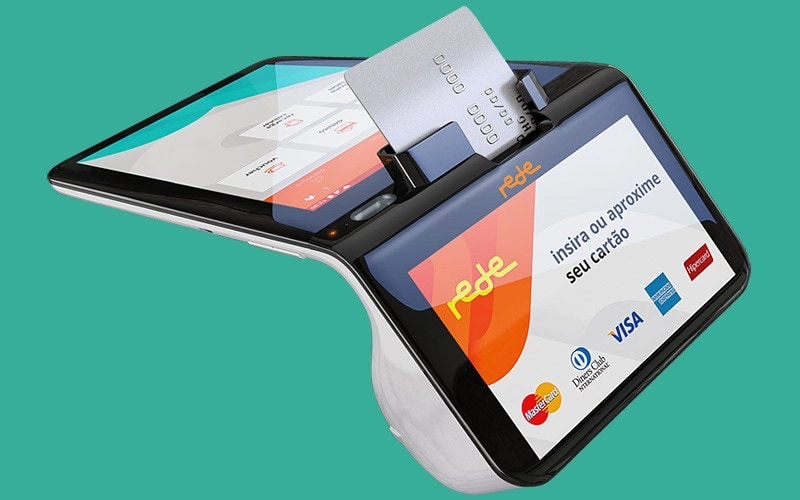 Smart Rede is a smart POS terminal in Brazil, where the payments market is rife.
From "smart" to "smart POS" terminals
"Smart terminal" has actually been around in the payment industry since the emergence of the first smart card, i.e. chip (EMV) card. An EMV (Europay, Mastercard, Visa) card has an embedded chip acting as a security token for the card machine to verify electronically. Terminals processing such cards with an inbuilt microprocessor – which could also use NFC (Near-Field Communication) and other contactless technologies – are referred to as 'smart terminals' regardless of how they look.
You still see internet sources using 'smart terminal' about card machines with standard push buttons and non-touch display. However, the definition in today's world has shifted towards the unfolding trend of touchscreen card terminals.
Today's smart terminals may have both a touchscreen and physical keypad for PIN entry, or just a touchscreen (or two). The familiarity of a standard PIN pad puts some customers at ease, as it is still unusual for many to enter a PIN code directly on a screen.
But calling these newer-generation machines smart terminals is not just about appearance. Similar to a "smartphone" characterised by its amplitude of app functions packed into one touchscreen device, the new-generation "smart terminals" have the capability to do many things apart from card processing through an integrated app market with features downloaded specifically for the terminal. Some of these functions are enabled through terminal hardware features like an inbuilt camera or weight scale support.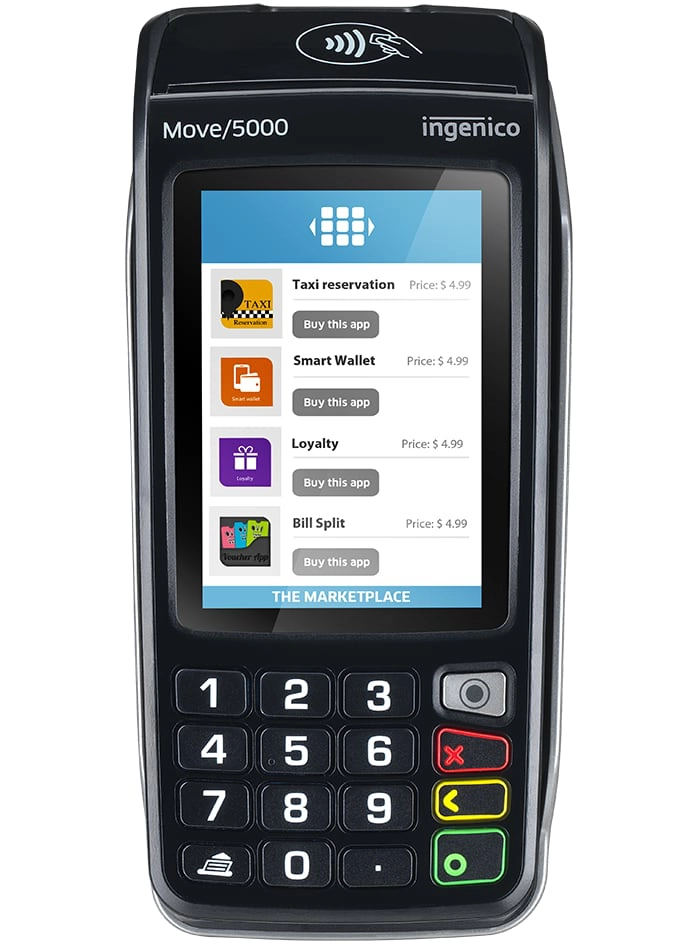 Ingenico Move/5000 has a touchscreen, but looks like the familiar-style EFTPOS machine.
Since card payments are part of point of sale operations, it is natural that the smart functions relate to POS features. Hence the name smart POS terminals, or SmartPOS terminals as some avid techies call them.
Usually, when companies use 'smart POS terminals', they refer to the card terminals with a dominant touchscreen where PINs are also entered – so no physical keypad.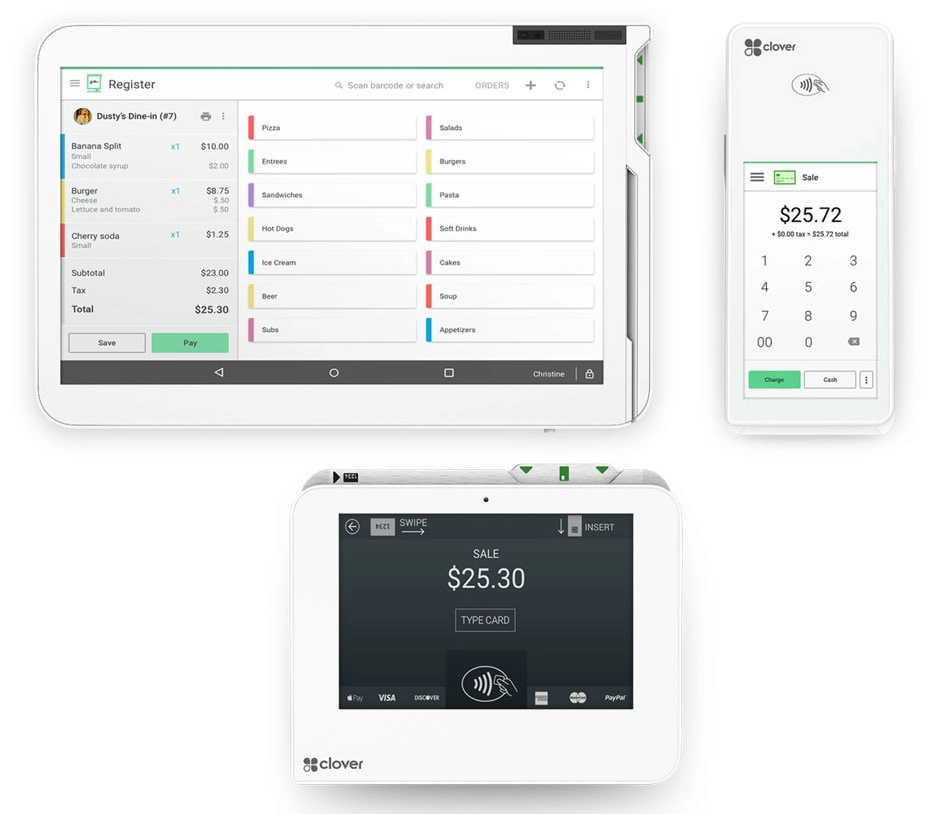 Clover Station, handheld Flex and Mini can all take cards and navigate features through the touchscreen. Photo: Clover
Characteristics of a smart POS terminal
The software features available to the terminals are offered through the manufacturer's own Android-based app market, usually with the option to integrate other software or build new applications for the terminals.
Examples of features include offers displayed on the terminal screen, customer loyalty functions, barcode scanning, product library and registration of parcel deliveries for couriers.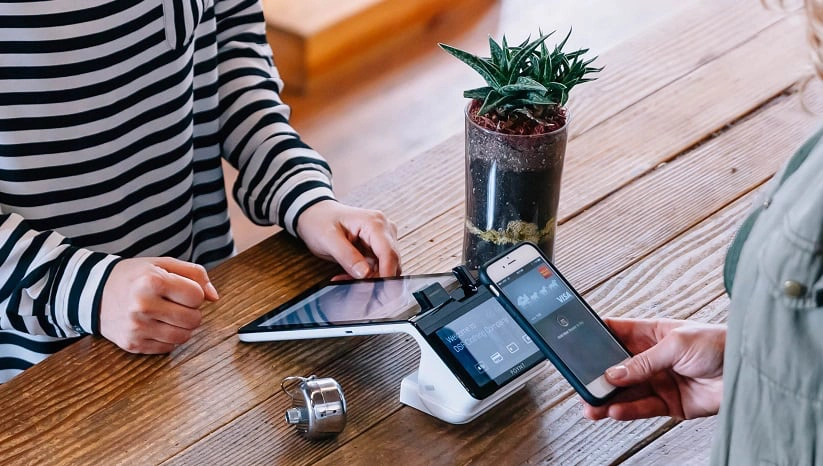 Poynt smart terminal (61B model) has a cashier- and customer-facing screen. Photo: Elavon
Just like simpler card machines are made by different manufacturers, smart payment terminals come in different shapes and brands, e.g. the Spire SmartPOS terminals, Verifone Carbon series and myPOS Smart series.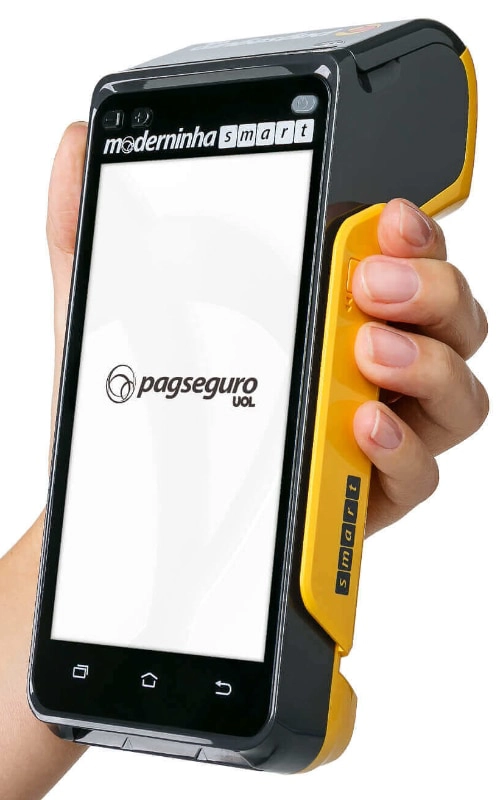 Moderninha smart terminal. Photo: PagSeguro
As for tech specs, smart POS terminals may:
Have 1 or 2 touchscreens. If there are two, one of them would typically be customer-facing.
Have a physical keypad, or use the screen for PIN entry (PIN on glass) and signatures.
Accept contactless, chip and swipe cards.
Have an inbuilt camera for barcode scanning and more.
Function through WiFi, 4G or 3G.
Have an inbuilt receipt printer.
Be portable, stationary or both. Some smart terminals from the same manufacturer can even be synced, as in the case of Clover POS by First Data.
Most smart POS terminals can still be integrated with a POS system, external barcode scanner and other equipment if you need it.