Choosing the right restaurant point of sale (POS) system is not straightforward, but it's easier when you know what to look for.
Certain features are essential for restaurants, so if they're lacking in a basic package, we wouldn't recommend the solution highly.
For example, any quick-service, takeaway, fine or casual dining restaurant needs a food and drink menu displayed in a user-friendly way on the till screen and ingredients highlighted so staff can inform customers with allergies. They typically also need to split bills, display VAT and accept tips.
Full-service restaurants need open orders attached to a seating plan, table reservations and courses timed with the kitchen. These are not always included as standard, in which case they should be available as add-ons.
We've looked at all these aspects – balancing cost, features and value of each POS system for restaurants – and analysed the best solutions for a small-to-medium restaurant in the UK.
Comparison of restaurant POS systems:
| Restaurant EPOS | Best for | Cost* | Website |
| --- | --- | --- | --- |
| | New small or medium restaurants that need flexible ordering options | From £59/mo | |
| | Small restaurants needing many features in the core package | From £49/mo | |
| | Growing restaurants that want custom hardware and add-ons | From £50/mo | |
| | Small restaurants looking for a time-saving versatile platform with multiple ordering options | Free – £69/mo | |
| | Small businesses needing cheap and customisable EPOS with payments | From £29/mo | |
| | Fast-paced restaurants with a budget for a more custom package | From £80/mo | |
Restaurant
EPOS
Best for
Cost*
Website
New small or medium restaurants that need flexible ordering options
From £59/mo
Small restaurants needing many features in the core package
From £49/mo
Growing restaurants that want custom hardware and add-ons
From £50/mo
 Small restaurants looking for a time-saving versatile platform with multiple ordering options
Free – £69/mo
Small businesses needing cheap and customisable EPOS with payments
From £29/mo
Fast-paced restaurants with a budget for a more custom package
From £80/mo
What kind of POS system to choose?
Have you got an idea of which POS features are essential in your restaurant? What's your budget?
You might start small with a general, low-cost EPOS (electronic point of sale), then later upgrade the system with add-ons or migrate to a different system. The easier way is to choose a POS that meets all your needs for the long term.
For instance, can you add a structured menu, manage orders easily and accept a service charge? Is it easy to set up, and are reports and takeaway integrations adequate? Does it only work on iPad, or on Android and PCs too?
Perhaps your food establishment has requirements that others don't, such as click-and-collect integration. Maybe you prefer a hard-wearing touchscreen register where staff can swipe their IDs. Good till systems can be customised with these and other features.
Pros
Long-term contract not required

Works both online and offline

24/7 support and online resources

Integrated payment system
Cons
Sign-up requires phone call

Not as advanced as it used to be

Costs can rack up with integrations
Lightspeed Restaurant is a very adaptive, cloud-based POS system for small-to-large food establishments. The software works while connected to WiFi or a mobile network, but its offline mode enables you to carry on operations during internet outages.
The app looks a bit basic to begin with, but once you start to set up the menu and till interface, you  see its full potential. For example, left-handed users will be pleased to know that you can switch to a left-handed interface.
Image: Mobile Transaction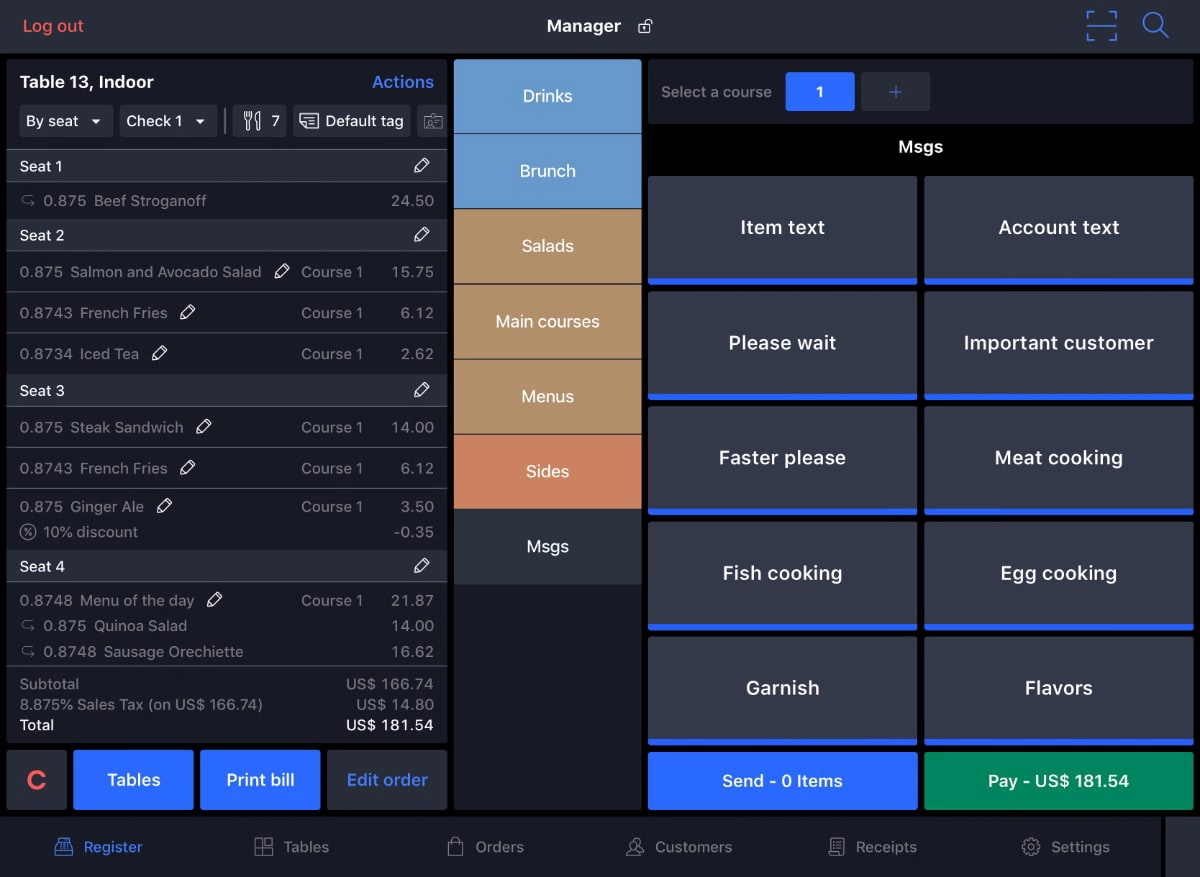 Lightspeed Restaurant prices start at £59/month for one till on an annual 'Essentials' plan (monthly plan costs £77 per month). This is suitable for quick-service restaurants and smaller operations, whereas full-service restaurants would need the 'Plus' subscription for £109/month on an annual plan or £142/month if you pay monthly. Big restaurants or hotels can opt for Pro for £339 + VAT per month with an annual plan or £441 + VAT paid monthly.
The Plus plan contains table-service features, customer loyalty tools and gift cards on top of Essentials' point of sale, menu and course management features. Users also get functions for takeaway, QR code ordering, reports and analytics.
Lightspeed Payments is integrated in the system, enabling you to accept Visa, Mastercard and American Express, but this requires that you buy a card machine through Lightspeed.
The system connects with food delivery platforms like Uber Eats and Deliveroo at an extra cost.
You can cancel the subscription any time for free, but it is not possible to get a refund for anything paid already.
Lightspeed offers all new users a free video onboarding session where you can have all your questions answered. They also have customer support lines open 24 hours, seven days a week excluding holiday periods. Emailing and chatting via the website are also possible, and there's a help section on their website.
Can you try it before committing? There's a limited demo account in the app for testing, or you can contact Lightspeed for an offer.
Pros
Works both online and offline

24/7 phone and email support
Cons
No UK website, poor transparency about pricing and add-ons

Minimum 1 year's commitment

Only runs on iPad and Apple devices
TouchBistro is an elaborate till for restaurants and other food-and-drink businesses. The system is cloud-based, but can work offline through a local network of iPads connected to an iMac, Mac Mini or Mac Pro. If you're using more than one iPad register, it's a requirement to have such an Apple network in place to connect them up.
You pay per iPad (one licence each) that uses the software. It is possible to pay monthly, quarterly, every 6 months or yearly but the minimum commitment is a year.
Image: Mobile Transaction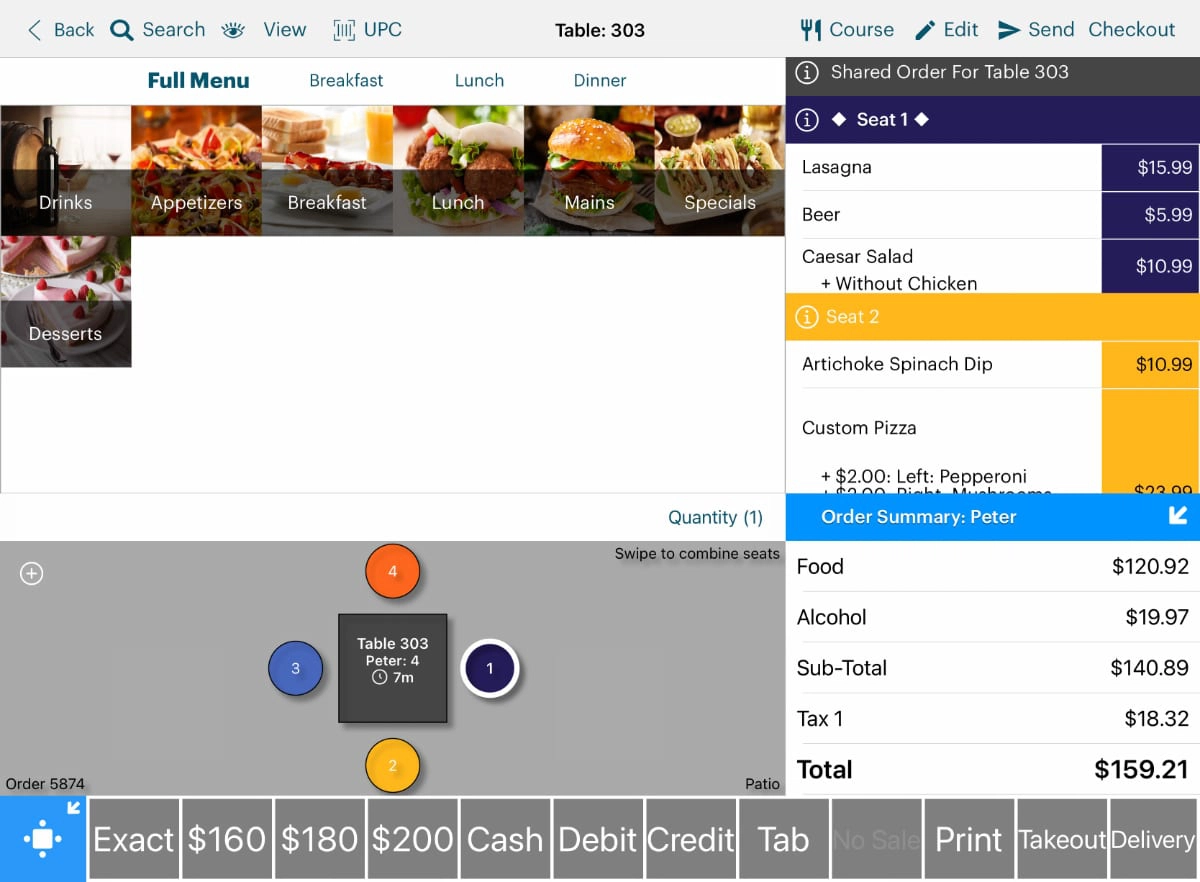 Licences include a complete range of TouchBistro till features. A Reservations module can be added for an additional fee to manage table bookings.
The restaurant EPOS app is comprehensive and useful, with both standard functions and thoughtful extras designed to maximise the customer service experience. It's also possible to add customer-facing displays and a kitchen display system (KDS) to optimise operations – all available as separate apps created by TouchBistro for an extra subscription.
Delivery platforms like Uber Eats can be connected through a Deliverect integration, and Flipdish connects if you need customer loyalty tools. Their preferred card machine partner for integrated payments is Barclaycard Business.
TouchBistro's customer support is generally okay. Within the app, you can send screenshots directly to the support team who can then guide you more easily on the phone or by email – both available 24 hours a day, 7 days a week.
Because TouchBistro no longer has a UK website, it looks like they only serve North American businesses. The information online is misleading, to say the least, because several features on the website are for US or Canadian users only. We can confirm they do still accept British users, but signing up requires requesting a quote from TouchBistro who will phone or email you back with details.
Can you try it before committing? Yes, you can book a free demo or try the demo account in the app without registering.
Pros
Runs on iPad, Android, Mac and PC

Works both online and offline
Cons
Customer support costs extra

Many features require paid add-on

Complaints about service and bugs
Epos Now is a scalable system that works on PC, Mac, iPad and Android tablets, online or offline. The Epos Now Hospitality software can be purchased for a one-off price upfront or paid on a monthly basis.
It is suitable for small businesses with its fairly affordable hardware packages with a touchscreen monitor, receipt printer, cash drawer and more. You can also rent touchscreen PC terminals in equipment bundles if you can't afford to purchase it upfront.
Image: Mobile Transaction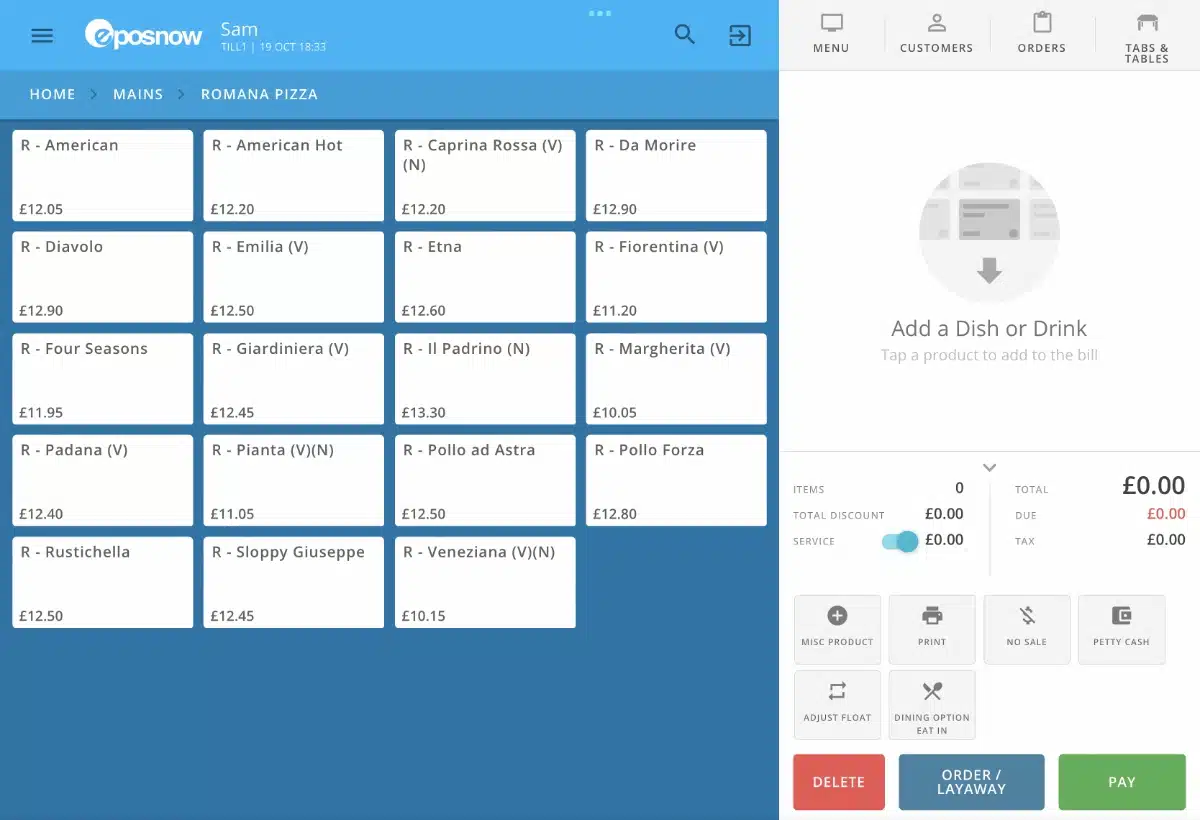 That said, Epos Now locks you into a contract of 1-3 years. This is not transparent on the website, similar to its other costs that are not apparent until you realise missing features requiring a paid add-on module or integration with external software.
There are different subscription tiers, only communicated at sign-up. In all of them, you can add unlimited products (or rather: Epos Now does this for you, which is not always convenient), users and customers, and software and security updates are included.
The EPOS works out-of-the-box with Epos Now Payments, if you also rent a card machine from £15 + VAT per month. Otherwise, the system integrates with card machines from Verifone, Retail Merchant Services, Worldpay, Paymentsense, Zettle and Global Payments.
Epos Now offers 24/7 customer support, but only with an extra care package. This could be a deal-breaker, considering most other POS systems include phone support at any price level.
Without the card package, there's only email support and initial help with setting up, so it is expected you manage most things yourself. On an Enterprise plan, you can get onsite support.
While there are reports of features being limited, technical issues and usability challenges, Epos Now offers a good range of essential functions for restaurants and the option to integrate with ecommerce and Deliveroo.
Can you try it before committing? You can request a demo or free trial through a contact form on the website. Just beware that Epos Now is known for using contact details for marketing purposes, which you may need to opt out of.
Pros
No contract, cancel any time

Free ordering functions, delivery integrations available
Cons
Features may be too basic

Not for Android or computers

24/7 support requires paid plan
Square for Restaurants is a POS system built for fast-paced food and drink businesses. The software only works on iPad together with Square's own card terminals, not other card machines, but you do get a lot of additional online payment tools integrated with the front-facing EPOS system.
To sign up, you only need to complete a simple online form and connect your bank account. You can then get started using the free Point of Sale app with general features, Restaurants Free plan with more hospitality features, or Restaurants Plus with a full range of restaurant features.
Image: Mobile Transaction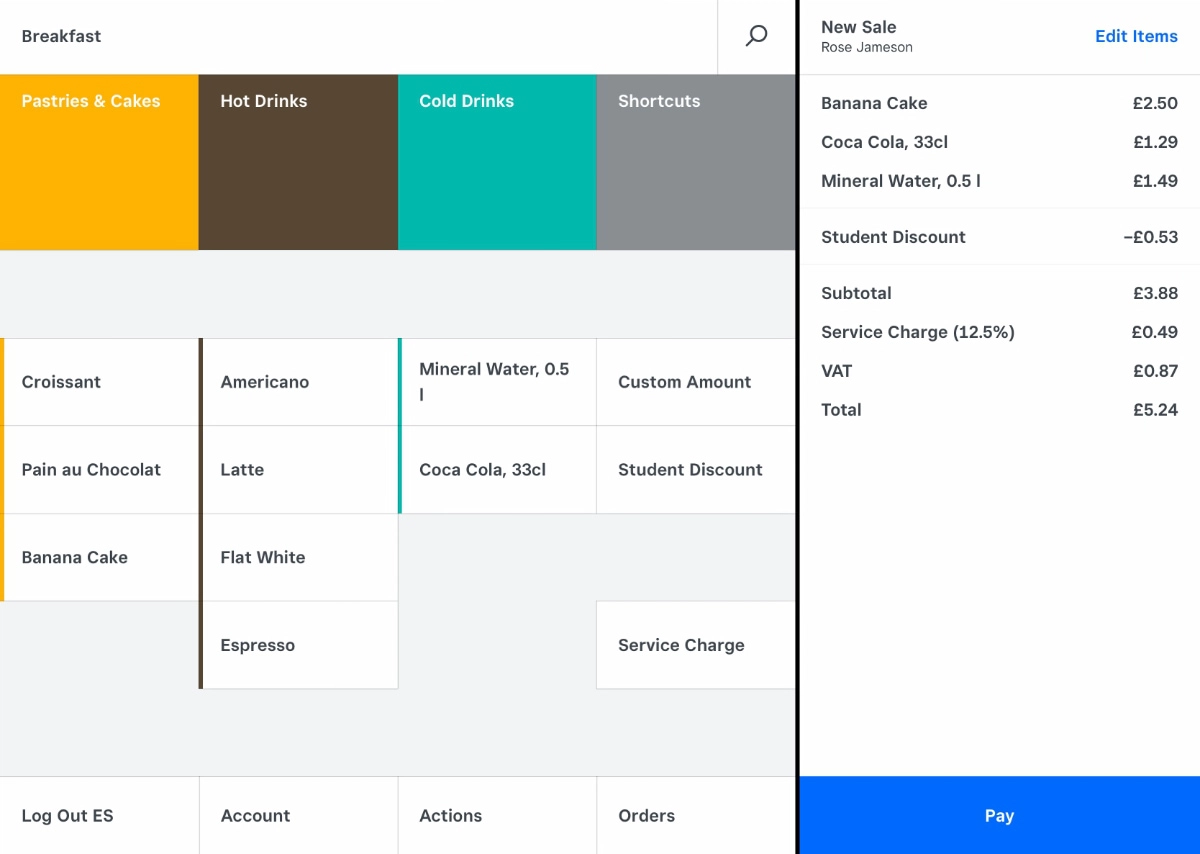 The Restaurants software is simple, but sufficient, for a small restaurant where tills need to coordinate kitchen orders and table service.
The Free plan lacks some important features like end-of-day reports, item availability tracking, seat management, advanced service charge settings and a Kitchen Display System – all included on the Plus subscription for £69 + VAT per month for unlimited registers at one location.
The software automatically works with Square Reader for card transactions, and syncs with the standalone Square Terminal for table service payments. Instead of using an iPad, the elegant Square Register (£599 + VAT) with a touchscreen and attached card terminal works with any Square EPOS.
Apart from POS features, you can set up click-and-collect, integrate with takeaway platforms and accept bookings over the phone with the complimentary Virtual Terminal. eGift Cards, payment links and QR codes for touch-free ordering are also included for free. Overall, Square is excellent value for money, but we do recommend trialling the software in case it lacks advanced features you need.
The Free plan only includes customer support on weekdays between 9am and 5pm, but Plus has 24/7 support to suit the social hours of restaurants.
Can you try it before committing? Yes, there's a 30-day free trial of the Plus subscription.
Pros
Online ordering functions included

Very customisable with modules

User-friendly POS software
Cons
Incomplete help section online

12-month contract required
SumUp Point of Sale (or 'SumUp POS Pro') is a modular POS system, i.e. you only get the features you choose for your business. It's a rebrand of Goodtill's original POS system that has now been taken over by SumUp.
First off, you subscribe to a Core POS Module, which you then add optional modules to. The Hospitality Module is most relevant to restaurants. The system works only on iPad, and the dashboard with analytics is accessed in a browser.
Image: Mobile Transaction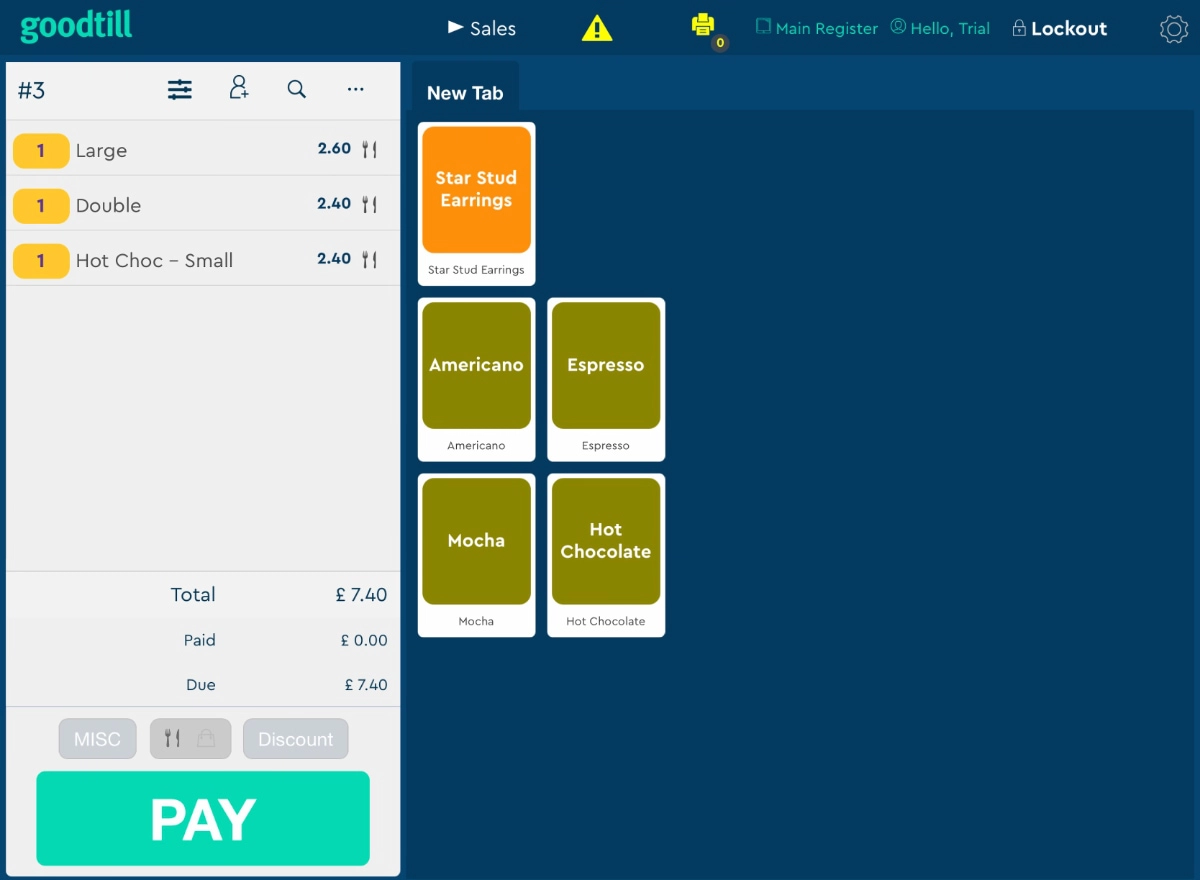 It may seem like a cheap system at £29 a month per iPad, but the additional modules for a restaurant could make the final cost high. The core module includes decent reporting and basic POS features suitable for a variety of face-to-face businesses.
Restaurants would definitely need the Hospitality Module (£9) and possibly Loyalty (£20), Promotions (£18), Kitchen Display Screen (£9 each) and an integration with Deliveroo or Uber Eats (£9 each). All users get free online ordering software (from 1.7% +12p per transaction). A minimum of a year's SumUp POS subscription is required, though.
SumUp POS integrates with select third-party software and can currently be used with card machines from SumUp, Square, Barclaycard, RMS, Zettle and Paymentsense.
The POS system has received mainly positive user reviews, but we have personally experienced bugs while testing. The online resource section is also poorly structured and lacks information about some features. But you can contact customer support every day within set daytime and evening hours for help.
Can you try it before committing? Yes, you can request a free trial on the website. After submitting contact details, SumUp will get in touch to discuss trial options.
Pros
Complete, custom POS bundles

Industry-grade, splash-proof terminals

Comprehensive restaurant features
Cons
Only for Toast's Android terminals
Toast is an all-in-one POS system installed on Toast's very own, spill-proof Android terminals. This means you purchase a hardware bundle with a touchscreen register, table-side terminal, receipt printer, customer facing display and/or kitchen display screen.
It's up to you which combination of equipment you buy, but Toast has to be involved in setting it up at your premises for a fee. On the plus side, not only do you get cloud-based till software allowing you to check sales from afar, you also have offline functionality in case the internet fails. Just beware that you still need to manually back up important data, since Toast's system does not do this automatically.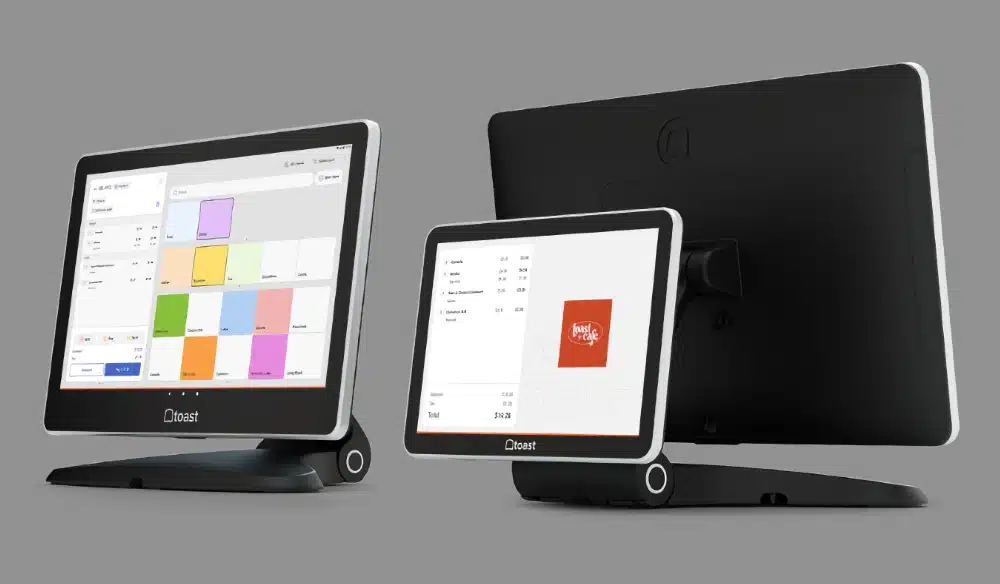 The EPOS is generally easy to work out, with genuinely useful features for a full-service restaurant. Apart from standard features like customisable food menus and split bills, it offers a kitchen display system (KDS) for different food prep stations, solid inventory tools and a portable checkout terminal for tableside ordering.
Card payments are integrated in the system and require a custom quote and card machine from Toast.
There are a few different pricing plans available: Starter from £80 + VAT monthly for one terminal, Essentials from £119 +VAT per month and Custom with tailored pricing. If features are missing on your chosen plan, you can get them as add-ons or integrations with external software.
A common complaint about Toast is its slow and lacking service beyond the initial installation. It can take weeks to get a resolution to a query, and we've seen users saying the company lacks email or chat support.
Can you try it before committing? You can request a quote and demo from Toast's website. There's no trial to test on your own devices.
What hardware does the POS software work on?
Restaurants might prefer a specific operating system, whether it's for budget reasons or because it fits in better with the premises.
The cheapest register hardware tends to be commercial Android tablets or iPad, whereas custom touchscreen computers for the till can be pricier. If you already have an iPad to spare, most solutions on our shortlist work with that. In fact, Lightspeed Restaurant, TouchBistro and SumUp POS only work on iPad.
| EPOS | iPad | Android | PC | Mac | Custom |
| --- | --- | --- | --- | --- | --- |
| Lightspeed Restaurant | | | | | |
| TouchBistro | | | | | |
| Epos Now | | | | | |
| Square for Restaurants | | | | | |
| SumUp POS | | | | | |
| Toast | | | | | |
Apart from iPad, Square for Restaurants also works on Square Register, a fancy-looking touchscreen register designed to be used only with Square EPOS.
Epos Now is the till that works on most kinds of devices, giving you freedom to upgrade equipment later on. At the other end of the spectrum, Toast offers its own Android register and till equipment, with no other screens compatible.
What other restaurant EPOS is there?
What's another till system for restaurant businesses in the UK? The biggest contender is Zonal EPOS (also called Aztec), which has been popular for decades given its personalised approach to hospitality software and equipment solutions.
Revel Systems is a reputable brand for small-to-large restaurants, but has mixed user reviews and comes with high start-up costs. iiko has some good customer reviews among small restaurants, but their British customer base is still in the growth stage.
But maybe you don't need a till for a restaurant per se. Here are POS systems for: