Card machines can be used with or without a holder, stand or case. Whether you need one depends on your setup and needs, as each are designed for specific purposes.
Not only are there different types of card machine holders – there are different sizes as well, so you need to make sure your chosen holder fits with your payment terminal model.
To decide which is the right holder, think about the setup you'll need, then consider how the following holders would fit in with that.
Definition of card machine holder
A card machine holder is a stand, cradle, frame or case that protects, secures and/or holds a card payment terminal in place.
Loose desk holder
Unless you're getting an inexpensive card reader, odds are your new card machine comes with a basic holder to place on a countertop. This is usually not mountable to the desk, but keeps the terminal in place so it looks presentable.
Photo: Emmanuel Charpentier (EC), Mobile Transaction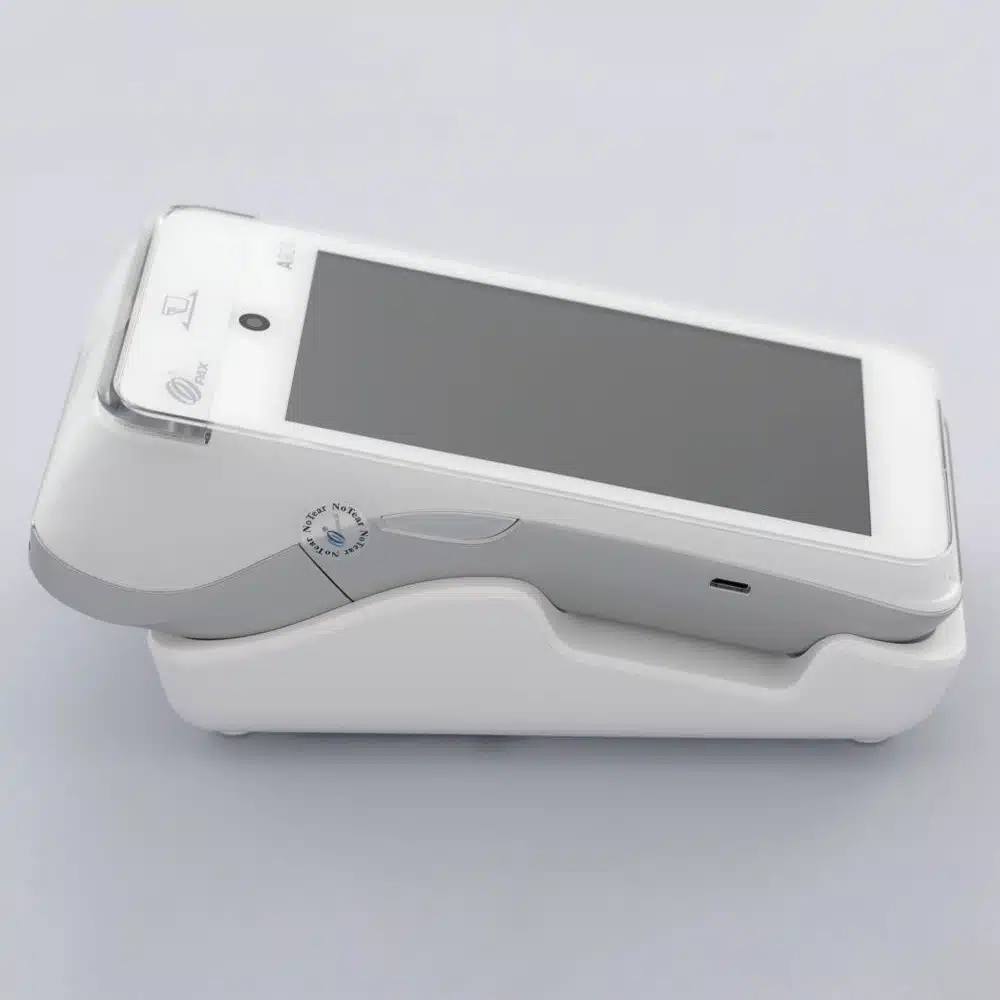 PAX A920 terminal in a loose holder.
Photo: EC, Mobile Transaction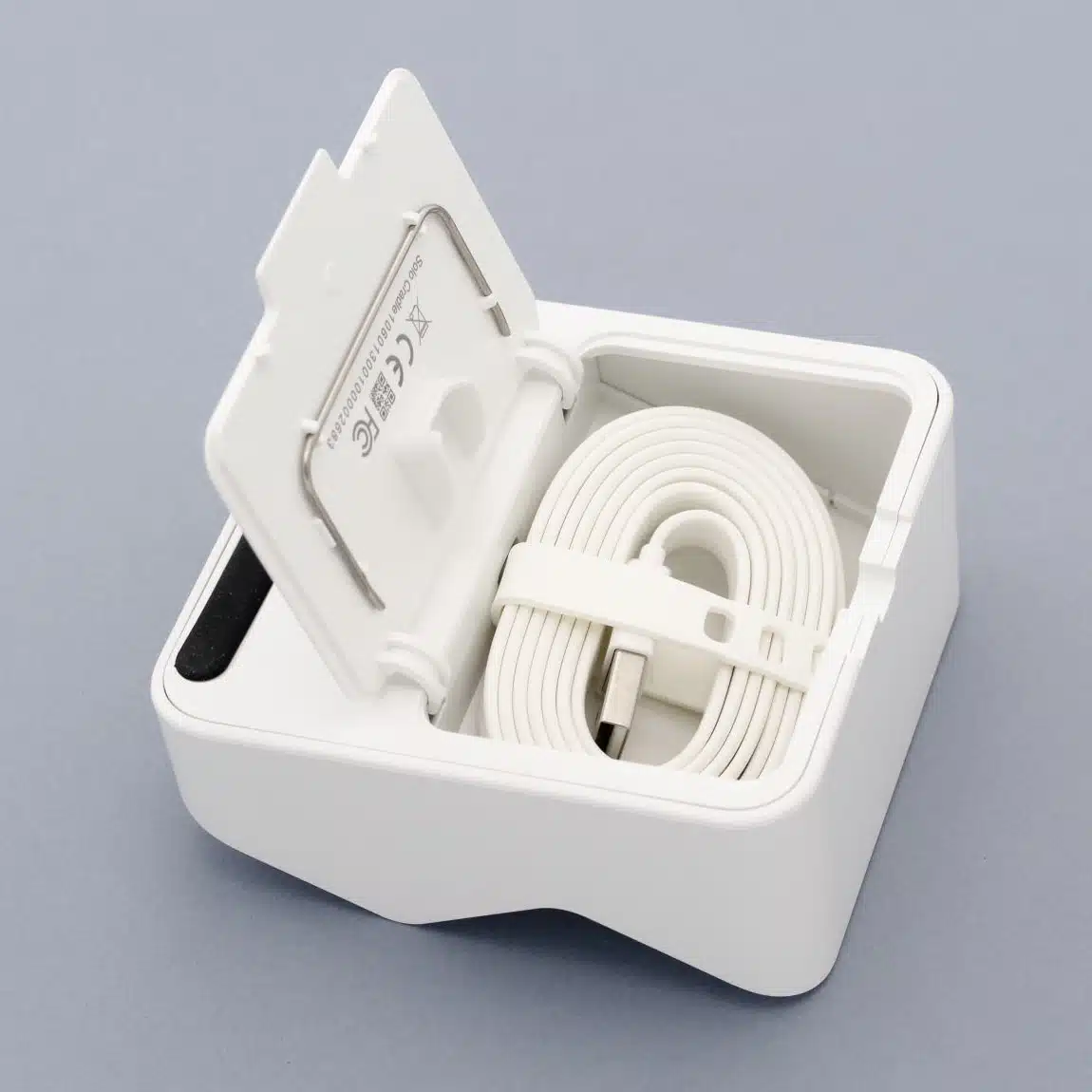 SumUp Solo's cradle stores a charging cable.
Sometimes, a loose holder doubles as charging base that either:
Charges the card reader without being plugged into a power source
Has a socket underneath connecting a charging cable with the terminal
For example, Zettle Terminal's optional charging dock doesn't have to be plugged in to charge the terminal, as long as the base itself has been charged. SumUp Solo's complimentary stand, on the other hand, requires a plugged-in cable if the terminal needs to charge while placed in the stand.
Desk-, wall- and floor-mounted holders
Many brick-and-mortar locations need a stand that's fixed to a checkout desk, wall or floor area. These may be referred to as mounts, since they're mounted to a surface. This is to secure the card machine so it doesn't get lost or stolen.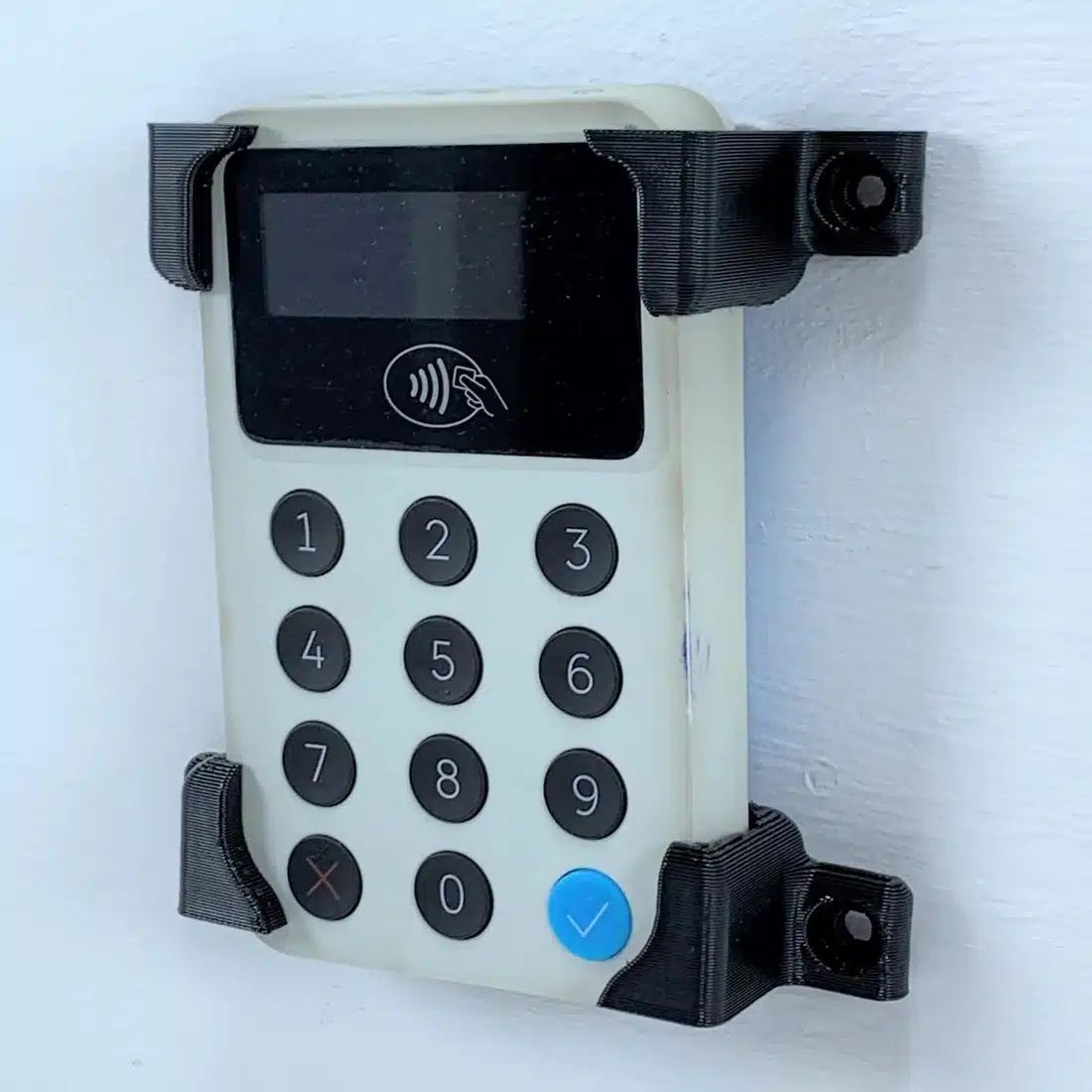 Wall mount for Zettle Reader.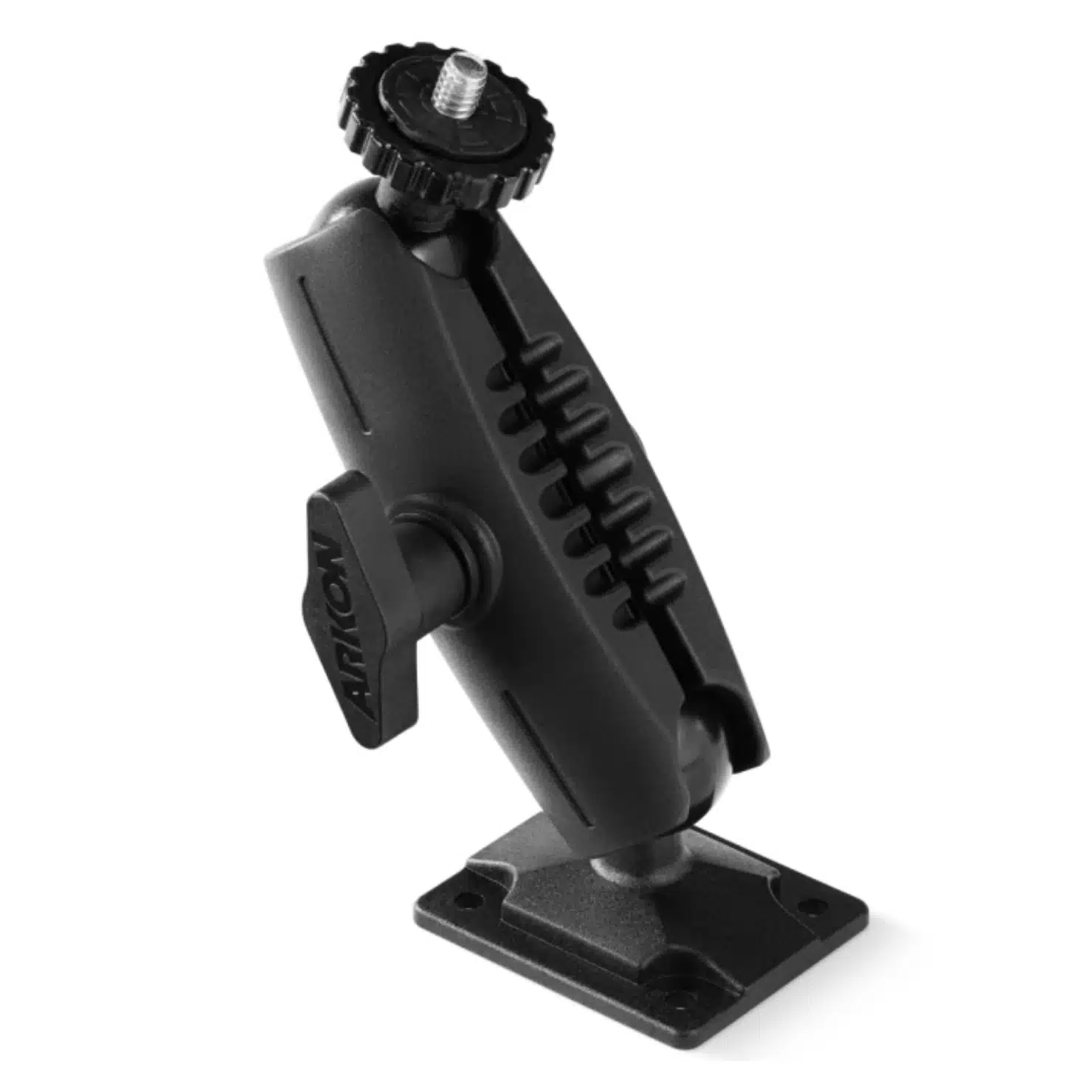 Table mount for Square Terminal.
There are actually different kinds of mounts, built for particular models or sizes of card machines.
Sometimes, they require the terminal to have a hole in the back that a screw fits into (like with Square Terminal). Alternatively, the terminal can be slotted into place with a clip or adjustable frame on a metal plate that forms part of a stand – some more secure than others.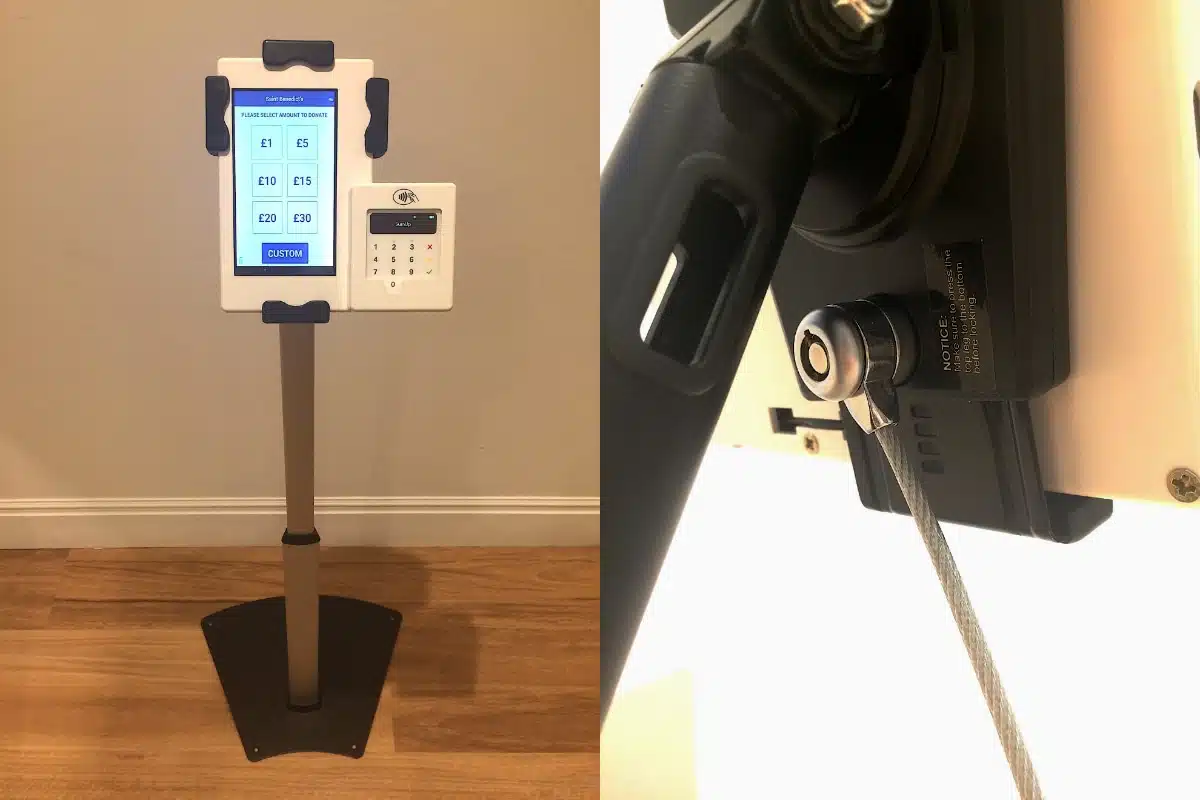 Floor stands are typically self-service stations with a card reader attached.
Stands can be mounted to a wall, table or floor as well, in a location near where the customer would conveniently pay.
Floor stands in particular tend to be self-service stations where customers can pick an item or donation amount on the touchscreen, then tap to pay on the card reader built into the stand. Retailers are more likely to need a table mount.
Swivel stands
Swivelling card machine stands are handy for fixed locations where you frequently need to change the angle of the payment terminal, for instance at a checkout register.
There are swivel stands for most situations, made to be fixed to a countertop, wall or other suitable, fixed surface.
Credit: Card Payment Spares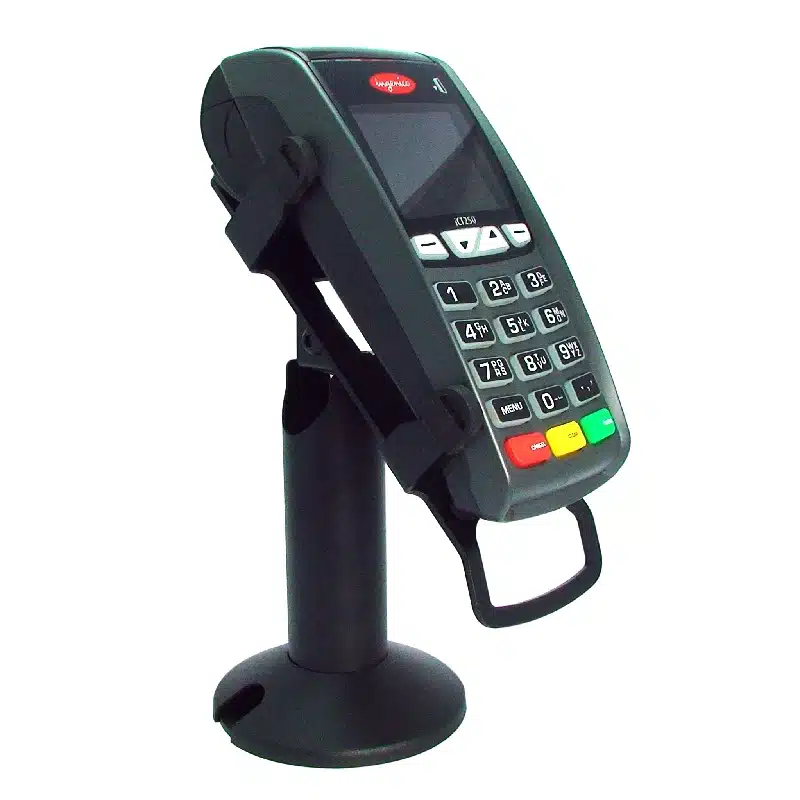 Swivel stand for a countertop.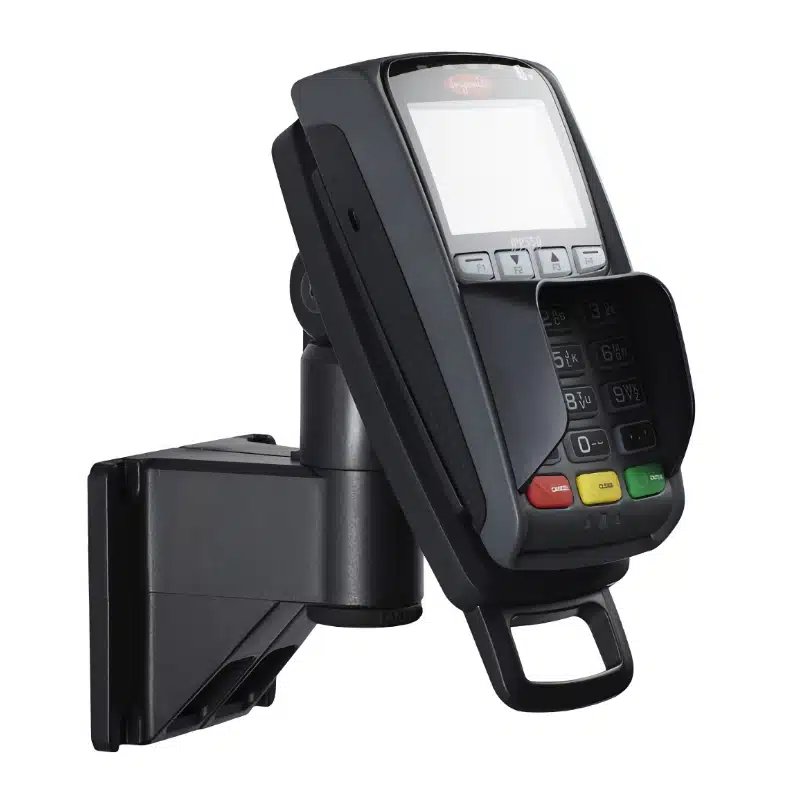 Wall-mounted swivel holder.
Swivel stands usually have an ergonomic hande below the card machine so you can easily grab it to turn the machine in your direction. This makes chip and PIN quite easy, especially in supermarkets where this sort of swivel stand has become the norm.
Carry cases or pouches
Mobile merchants can use a portable card machine holder so they don't need to constantly hold it in their hands.
The common types are a belt clip holder or pouch strapped around your neck or shoulder. Some of them store a wireless terminal loosely, enabling you to take it out.
Others require that the mobile card machine is encased in a cover with a clear front so you can see the PIN pad and display. These may have clips on the side for straps that go around your neck.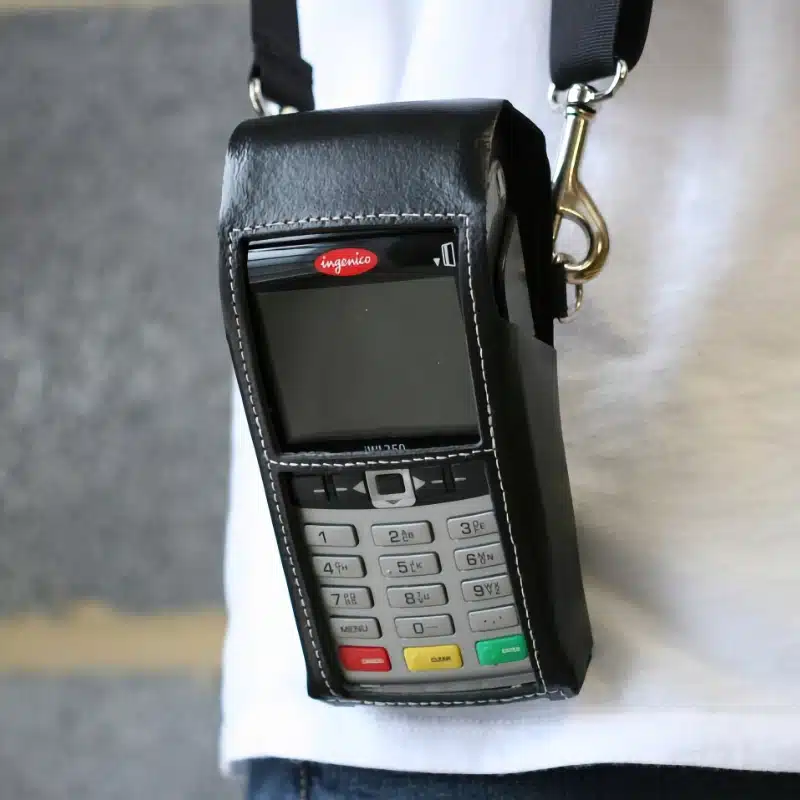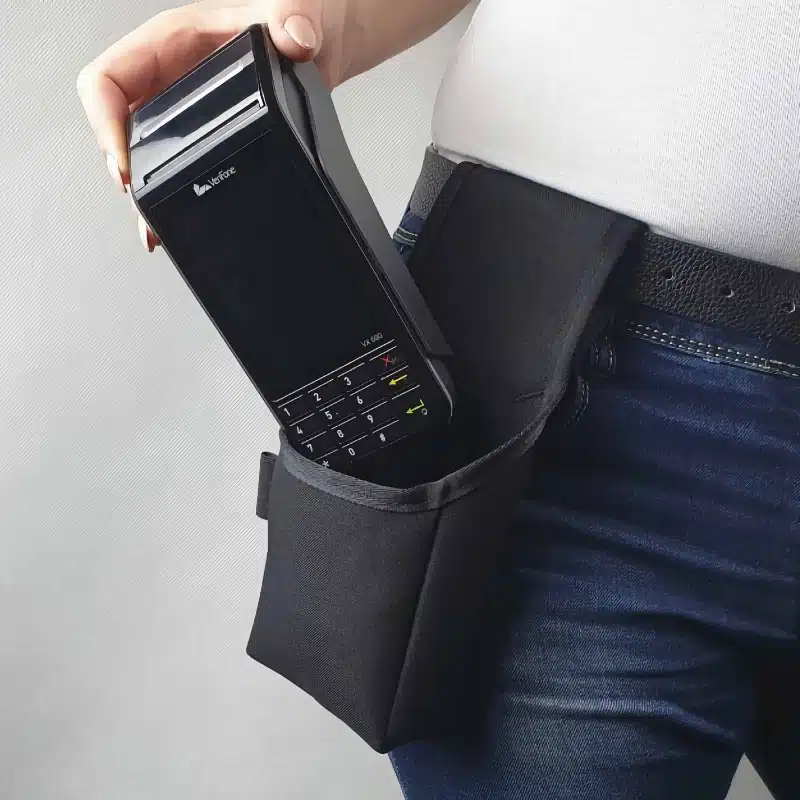 Belt pouch for a payment terminal.
The downside of using straps for carrying an expensive terminal is the risk of theft. It's easy for thieves to cut the straps, so you have to be vigilant with that. A belt clip might also be a risky, i.e. someone can slide out the terminal while you look the other way.
That said, they are extremely useful for selling tickets at festivals or events, marketstalls, delivery people and even waiters at restaurants.
Pull-out holder
Drive-through takeaways and other environments where the merchant is at a distance from customers will benefit from a pull-out holder.
This is basically a stick – adjustable or fixed-length – with the card machine at one end.
Such a long-reach holder is great for passing a card machine from a window or behind a counter to a customer seated in a car, without having to let go of the terminal.
Often referred to as a drive-through handle, it is the most specialised holder on this list in terms of who it's targeted at. Still, a long-reach arm could come in handy for many businesses during a bout of social distancing.
Credit: Hilipro UK Limited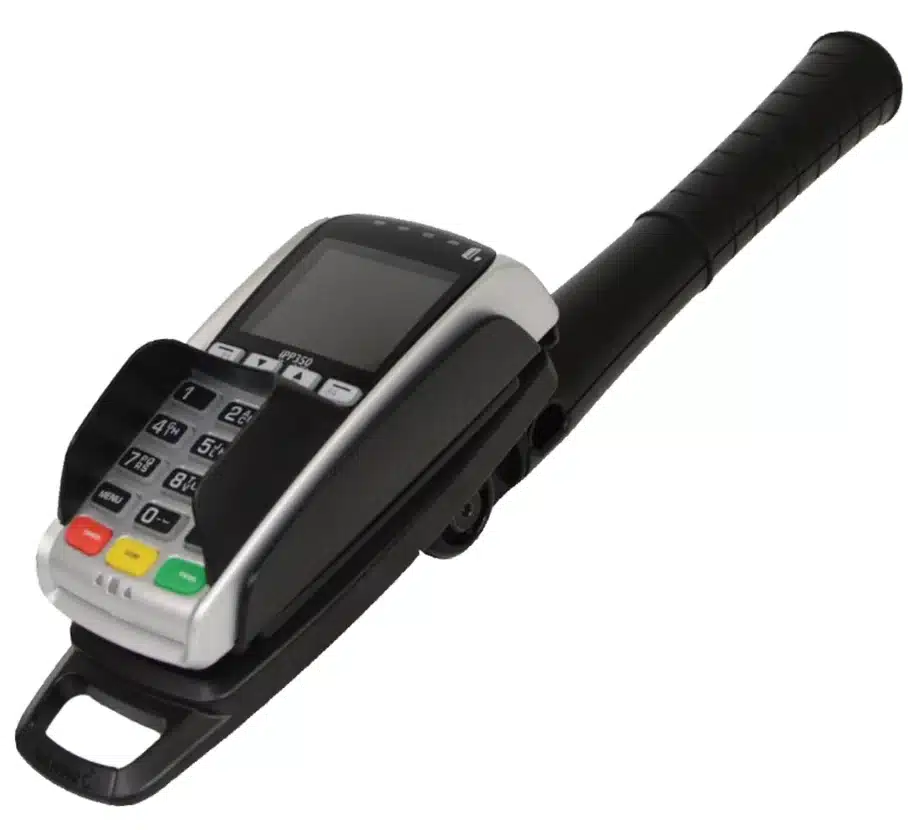 A card machine holder with a long handle is ideal for drive-throughs.
Modular holder
If your setup requires a frame or holder for other hardware like an iPad or receipt printer, you may go for a modular solution where everything is attached to the same structure. This is ideal for fixed till setups, but the components really have to be placed where it makes most ergonomical sense.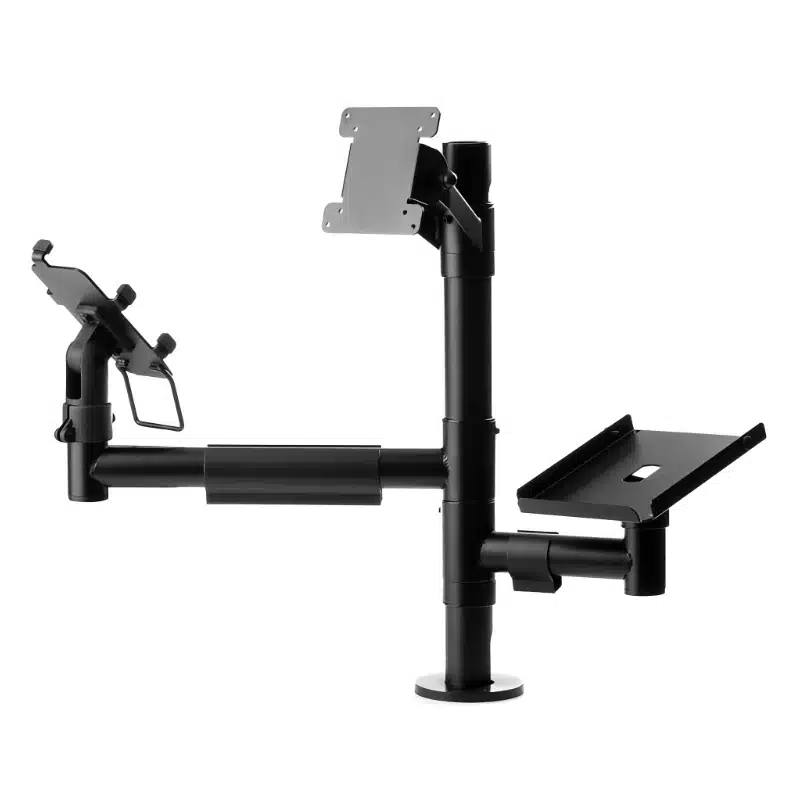 Modular stand for card machine, monitor and printer.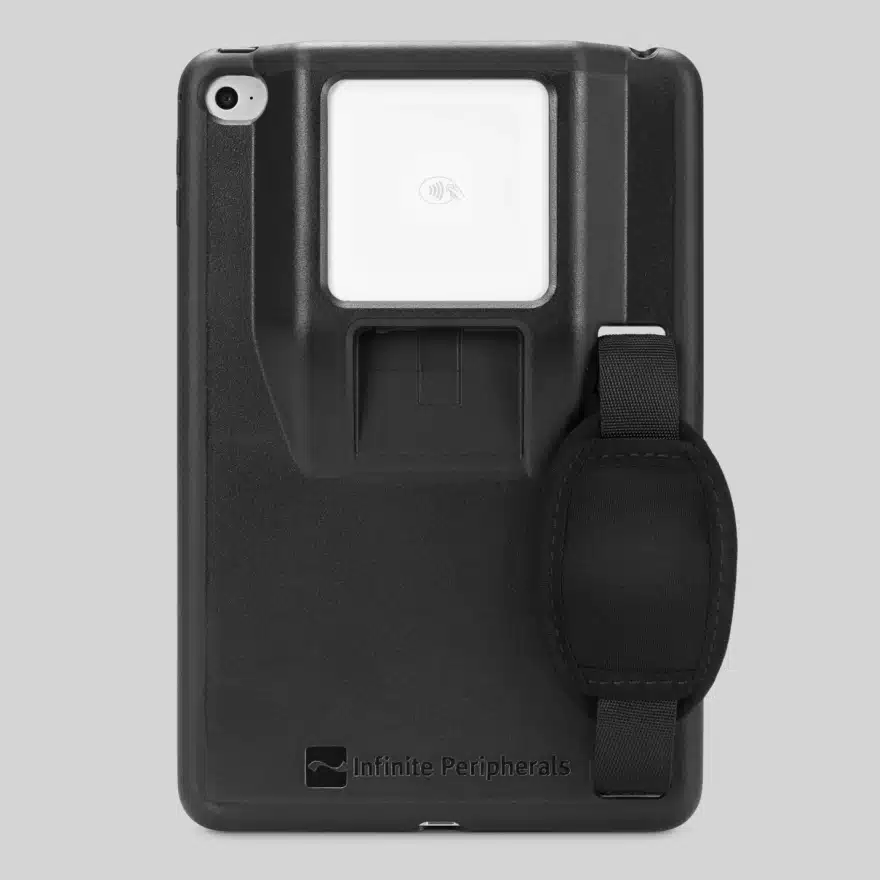 This iPad holder has a compartment for Square Reader on the back (pictured).
There are also modular portable solutions in the form of tablet cases with a slot on the back or side that a card reader fits into. This is very handy for app-based card readers where you run up the bill on the tablet, then ask the customer for a contactless tap behind the screen.
Protective cases
Last but not least, some "holders" are merely just cases to protect the card machine. Since they don't actually hold the device in a particular location, they can be considered just cosmetic coverings, but given their popularity, they deserve a spot on this list.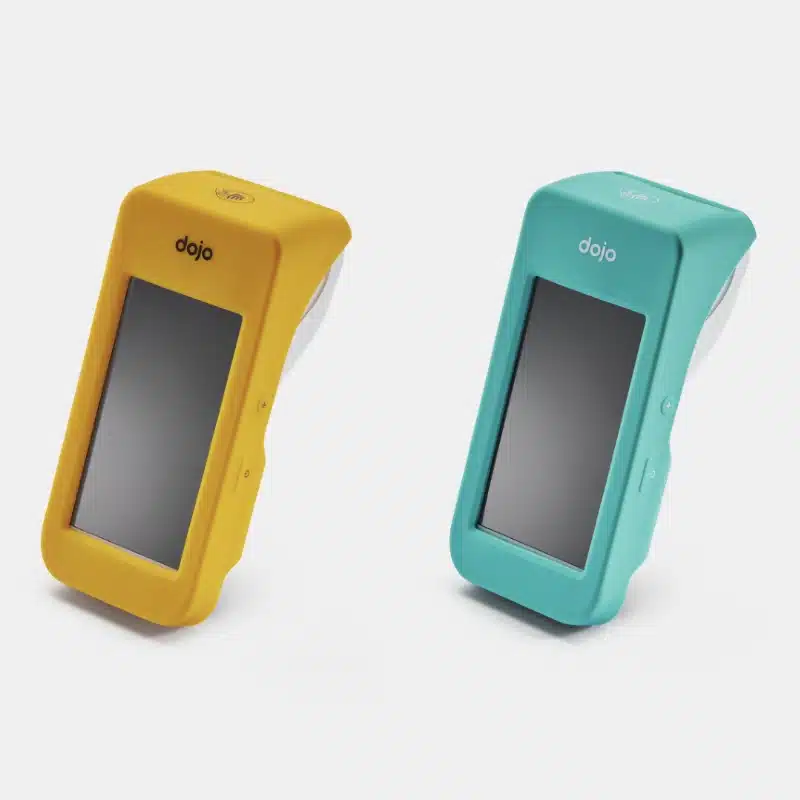 Dojo Go in colourful silicone cases.
Protective cases are typically made of silicone or plastic, designed to shield the terminal from knocks, dirt, scratches and sometimes even water damage. It all depends on the case and purpose of the cover.
If you're using a card machine on the go and tend to shove it in a bag, you will almost certainly need such a case to make sure it doesn't get damaged in the long run. A typical warranty of a payment terminal only covers manufacturing defects, not faults inflicted by the owner by not taking proper care of it.