It is no longer enough for a coffee shop to focus exclusively on offline marketing. Nowadays, potential customers search online for where to visit, and if your café doesn't look active – if it can be found at all – there's nothing to attract people there.
You only need to get some basics right to vastly improve your chances of growing your business. Most new or small cafés don't even get these basics right, meaning you'll be far ahead of the competition if you do.
Encouragingly, the essential online tools are free or almost free, compliment each other well and don't take a lot of time to do. They're therefore realistic ways to grow a café business, as long as you put your perfectionism to one side and get it done.
Google Business Profile
The first thing many people do when looking for a place to eat is search in Google, using terms like "cafes near me". This yields results on Google Maps, where people browse and compare local options. Clicking on a business shows its profile with opening hours, address, photos, customer reviews, etc.
But a business is only on Google Maps with a profile if the business owner adds it. This is free – and absolutely essential – to do.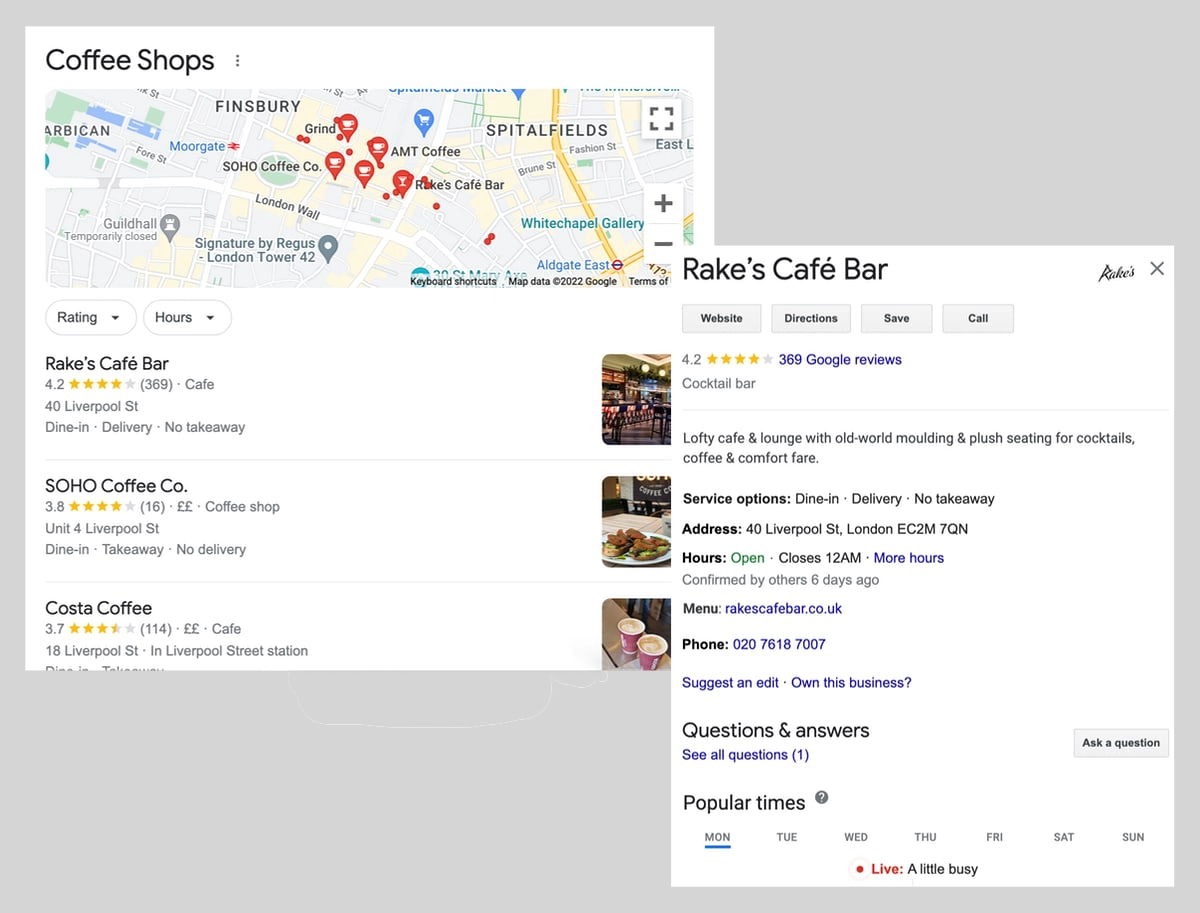 To sign up, go to the Google Business website, click "Manage Now" and "Add your business to Google". Then complete the information requested on the online form. At some point, you'll need to verify the business ownership through a phone call, text message or receiving a postcard from Google.
Make sure you list the café's full address, telephone number, opening hours, business category, exact location on the map and some pictures of the venue, food and drinks. The photos don't have to be professional. If you have a website or online ordering menu, link to those so people can order directly from Google.
Customers are able to submit their own reviews and photos to this profile. If a negative review has been left, it's good practice to respond to it promptly to show publicly you are taking issues seriously.
Facebook
Another place where especially older generations are checking information about coffee shops is Facebook.
Without a Facebook Page for your business, some people will assume you don't exist or perhaps aren't a reputable business. And surprisingly many small businesses forget to include an address, phone number and opening hours – all crucial information to visit you in the first place.
It's free to have a Facebook Page. To create one, you first need to have a personal Facebook account. Then add a page through the Meta Business Suite (Meta is the parent company of Facebook and Instagram). Add as many details about your business as possible, plus some attractive photos of your venue, food and drinks.
When the profile is complete, you can post updates on the page to keep the public informed of holiday closures, offers, events and anything else you'd like to announce. Facebook users can message you through the page, so keep an eye out for that in case someone has a burning question or comment.
Instagram
Another free tool is Instagram for Business. This allows you to create a business profile on Instagram to grow a loyal following through visual content. What's more, you can run ads for targeted audiences (costs money) and view follower and engagement data to see what type of content your audience likes best.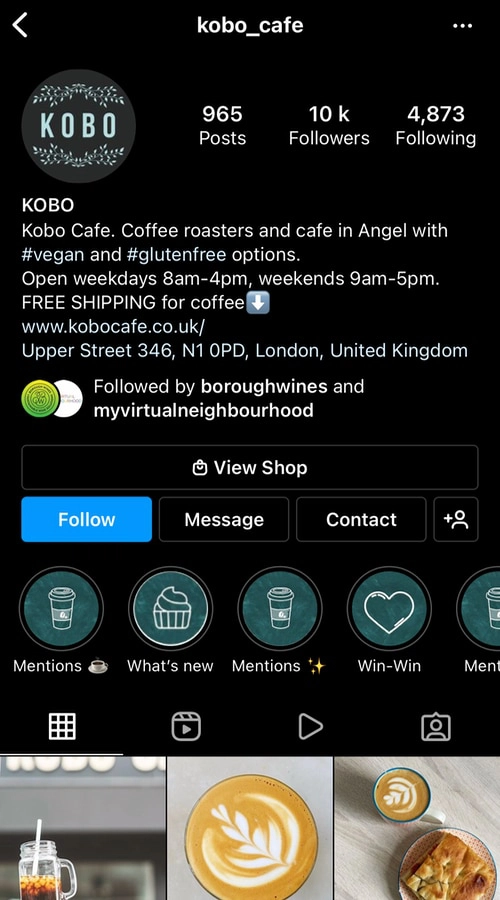 Instagram users tend to be between 18 and 34 years old, so especially "hip" cafés appealing to the younger generations should definitely be on the platform.
Through your personal Instagram profile, you go to settings to set up a separate page for your café. There's less space for business information on Instagram than Facebook, but at least include an address, opening hours and URL for a website or Facebook Page for more information.
Instagram is ideal if you have a nice-looking coffee shop, since it's a platform where photos and videos are the focus. No professional camera is needed – just your smartphone is fine for photographing and posting directly from the Instagram app.
You can even schedule posts to go out on both Facebook and Instagram through the Meta Business Suite.
Accept payments online
Online payment methods like pay-by-link, QR codes and online ordering is a whole extra sales avenue waiting to be tapped if you've only sold with a card machine so far.
This was made evident when Covid-19 started. Cafés needed to offer click-and-collect, takeaway and over-the-phone ordering to stay afloat. Many businesses discovered how useful it is for capturing the busy and tech-savvy customers who just wanted a coffee and pastry to go.
Fortunately, providers like Square and SumUp offer payment links and online checkout pages for free, allowing merchants to accept payments over the internet easily.
Set up a website
Having a website for your café increases your chances of getting customers. It doesn't have to be complicated at all – there are several simple, sometimes free, online platforms allowing you to create a website fast.
If you feel daunted, go for a simple website builder like SumUp Online Store or Square Online that are already connected with payments and online ordering suitable for restaurants. SumUp lets you create a basic online store right from SumUp App, which is by far the easiest approach – but then it is quite a basic website.
You can also try Wix or Squaresquare for more ecommerce features, but they require a subscription.
Lastly, whenever you create an online page or profile for your food-and-drink business, link to it from your other pages online. This helps you look more established on every platform, and that helps your sales.